Tools for Delivering Amazing Customer Service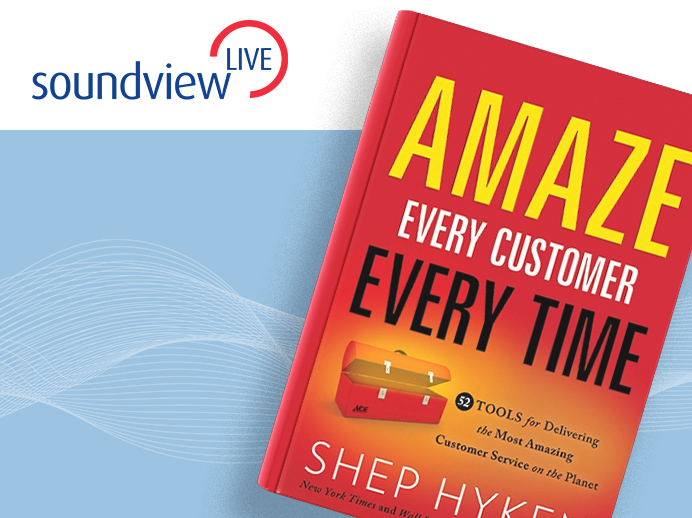 In this Soundview Live webinar, Tools for Delivering Amazing Customer Service, renowned customer experience expert Shep Hyken explains how consistently amazing customers through stellar service can elevate your company from good to great. Through revealing stories from Ace Hardware's over-the-top work with customers, Shep explores the five tactical areas of customer amazement: leadership, culture, one-on-one, competitive edge, and community.
To help you empower employees at all levels, Shep brings the content to a deeply practical level. His  Amazement Tools are simple, clear, useful for almost anybody, and supported with compelling research and stories. You will find the tools and tactics you need to transform your company into a seriously customer-focused operation that will amaze every customer every time.
About the Speaker
Shep Hyken
Shep Hyken, CSP, CPAE is a customer service expert, professional speaker and bestselling author who works with companies and organizations who want to build loyal relationships with their customers and employees. His articles have been read in hundreds of publications, and he is the author of Moments of Magic, The Loyal Customer and the Wall Street Journal and USA Today bestsellers, The Cult of the Customer and The Amazement Revolution, which was also recognized as a New York Times bestseller. He is also the creator of The Customer Focus program which helps clients develop a customer service culture and loyalty mindset.
In 1983 Shep founded Shepard Presentations and since then has worked with hundreds of clients ranging from Fortune 100 size organizations to companies with less than 50 employees. Some of his clients include American Airlines, AAA, Anheuser-Busch, AT&T, AETNA, Abbot Laboratories, American Express – and that's just a few of the A's!
Back to all webinars