How to Find and Keep Creative Talent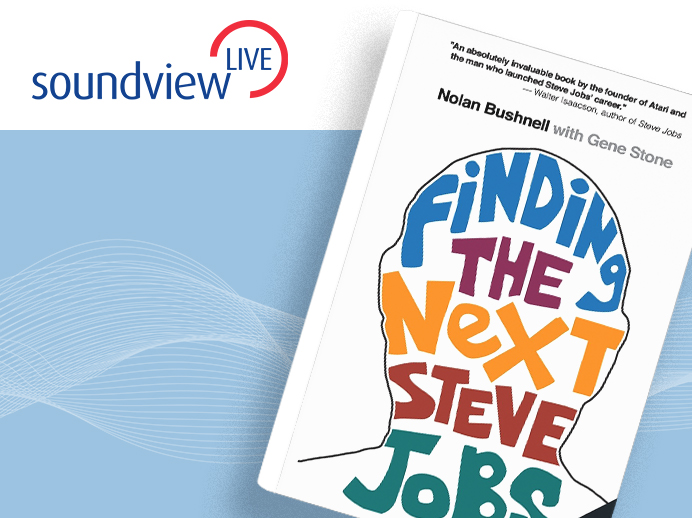 The only way to handle the constant change in today's business world is to have a staff of wildly creative people who live as much in the future as the present, who thrive on being different, and whose ideas guarantee that your company will prosper when other companies fail.
In this Soundview Live webinar, How to Find and Keep Creative Talent, Silicon Valley legend Nolan Bushnell and author Gene Stone will explain how to find and hire employees who have the potential to be the next Steve Jobs. Their advice is constantly counterintuitive, surprising and atypical.
About the Speaker
Nolan Bushnell
Nolan Bushnell (born February 5, 1943) is the founder of Atari, Inc. (now owned by Infogrames) and the Chuck E. Cheese Pizza-Time Theaters and is considered to be the father of the video arcade industry.
Bushnell graduated from the University of Utah electrical engineering program in 1968. During his time there in the 1960s, Bushnell was one of many computer science students that played the now famous Spacewar game on DEC mainframe computers. In 1971, Bushnell and colleague Ted Dabney created the Spacewar clone "Computer Space" in a self-contained cabinet; it was manufactured and distributed by Nutting Associates. Computer Space proved to be too far ahead of its time and was a commercial failure.
Nonetheless, Bushnell was determined to make a video game that could be played by anyone. In 1972, he and Dabney formed Atari and experienced an epiphany that spring at a computer electronics show in Burlingame, California, where he saw the Magnavox Odyssey for the first time and played its version of ping-pong. He realized that the game could use some improvements and a reduction in complexity. After Atari engineer Al Alcorn perfected the easier to play Pong videogame, Bushnell had it installed at a tavern in Sunnyvale, California called Andy Capp's. Pong proved to be popular but imitators helped keep Atari from dominating the fledging coin-operated videogame market.
Bushnell later bought out Dabney. In 1974, Bushnell and Atari decided to develop a home version of Pong. By 1975, Pong became one of the hottest Christmas gifts, largely due to a distribution agreement with Sears. In 1977, the Atari 2600 was introduced which helped to revolutionize home videogaming and the modern video game console industry was born. Demand for the unit was so great that Atari executives manned the production lines to help with the assembly and packaging during that first Christmas after its release. In 1976, Warner Communications (now Time Warner) bought Atari, and Bushnell was forced out of the company in 1978.
Bushnell has started over 20 companies (his most recent being uWink (http://www.uwink.com), which he founded in 1999). He has been inducted into the "Video Game Hall of Fame" and the Consumer Electronics Association "Hall of Fame."
Gene Stone
A graduate of Stanford and Harvard, Gene Stone is a former Peace Corps volunteer, screenwriter, television producer, and journalist as well as a book, magazine, and newspaper editor. He has also ghostwritten more than thirty books (many of which were national bestsellers), specializing in socially conscious business and health — among his bestselling health related books are "UltraPrevention" (with Drs. Mark Hyman and Mark Liponis) and "The Engine 2 Diet" (with vegan firefighter Rip Esselstyn). He has just "The Secrets of People Who Never Get Sick", which has already been translated into a dozen languages.
Back to all webinars
More Webinars