What Hackers and Punks Can Teach Us About Navigating the New Normal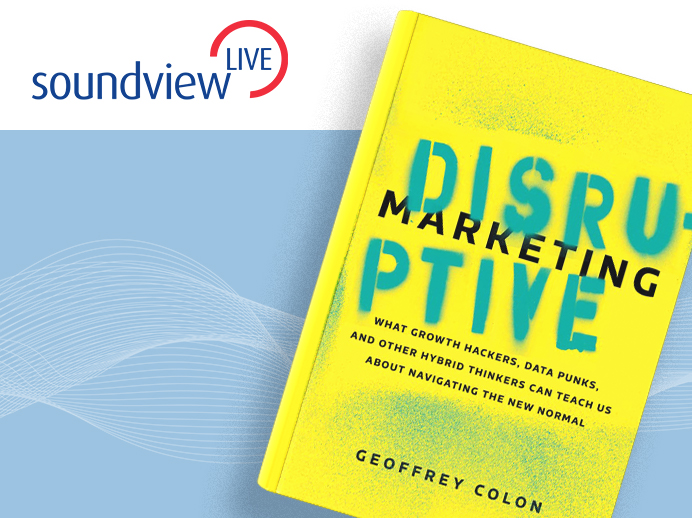 Technology hasn't just reshaped mass media, its altering behavior as well. And getting through to customers will take some radical rethinking.
Toss the linear plan, strip away conventions, and join Soundview Live for our webinar, What Hackers & Punks Can Teach Us About Navigating the New Normal with Geoffrey Colon, on a provocative, fast-paced tour of our changing world.
Packed with trends, predictions, and stories from a career spent pushing boundaries, this event will propel you out of your comfort zone and into the disruptive mindset you need for future success.
About the Speaker
Geoffrey Colon
Geoffrey Colon is the voice at the intersection of marketing, tech, and popular culture. Thinking is his commodity. DJ, data punk, podcaster and author, Geoffrey is a Communications Designer at Microsoft in Redmond, WA for Microsoft search advertising (Bing).
Colon has written for or been quoted in various publications and media outlets including Fast Company, The Huffington Post, The Guardian, Wall Street Journal, Billboard Magazine, Advertising Age, Digiday, Branding Strategy Insider, Entrepreneur and The Los Angeles Times. He has also appeared on Cheddar TV and Marketplace on NPR. He is an avid speaker on the global marketing conference circuit. Disruptive Marketing is his first book.
Geoffrey is producer/host of the video series "The Disruptive Marketer" and podcast "Disruptive FM." He blogs regularly on Branding Strategy Insider and Search Engine Journal. He also contributes original thought leadership to LinkedIn, Medium and the Bing Ads blog.
Prior to joining Microsoft in 2013, Geoffrey was vice president of digital strategy at Ogilvy & Mather in New York City.
Colon has spent 20 years in various marketing capacities working for and with several of the most influential brands including Red Bull, Spotify, Netflix, American Express, The Economist, Coca-Cola, IBM, WWE and Food Network. He spent a few years in the New York City tech startup world and several years in the music industry as DJ Geoffe where he released over a dozen commercially available house music compilations. He has also worked with several high profile musical artists including Britney Spears, Christina Aguilera, The White Stripes and Moby.
He is a 1994 graduate of Lehigh University with a Bachelor of Arts degree in Journalism and Mass Communications.
Geoffrey resides in Kirkland, WA with his wife and two daughters after spending over two decades in Brooklyn, NY and Maplewood, NJ. He invites his readers to converse in real time with him on Twitter, LinkedIn, Snapchat, Tumblr, Instagram, SoundCloud, YouTube and many more emerging communication platforms.
Back to all webinars