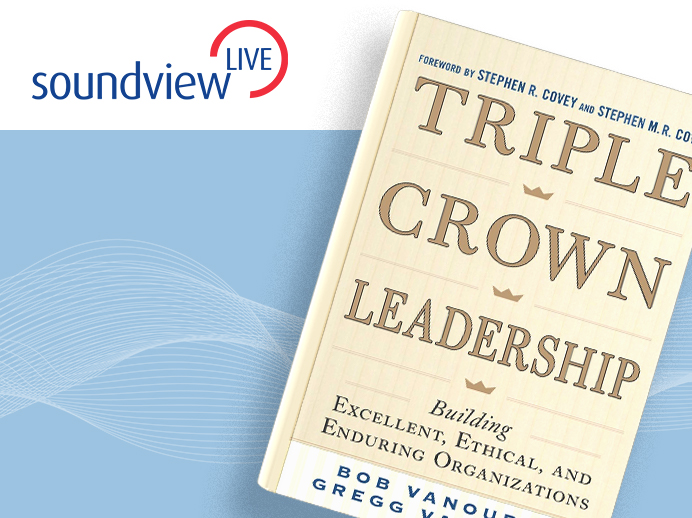 In this Soundview Live webinar, Triple Crown Leadership, Bob and Gregg Vanourek provide compelling leadership practices for building organizations that are excellent (achieve exceptional performance), ethical (do the right thing), and enduring (stand the test of time).
About the Speaker
Bob Vanourek
Bob Vanourek is a popular leadership speaker and author, and the former CEO of five companies from a start-up to the $1 billion New York Stock Exchange company, Sensormatic. He was an officer at two Fortune 500 firms, including Pitney Bowes, one of Jim Collins' "good to great" companies. Bob's businesses have won numerous awards, including a state-level Malcolm Baldrige Quality Prize and the Shingo Prize for Manufacturing Excellence, and Bob has served on numerous boards.
Bob is co-author of Triple Crown Leadership: Building Excellent, Ethical, and Enduring Organizations, a 2013 USA Best Book Awards Winner. His writing has been featured in Fast Company, American Management Association, the Center for Creative Leadership, Leader to Leader, Leadership Excellence, and many more. Bob has taught leadership at the University of Denver and Colorado Mountain College and is Chairman Emeritus of the Vail Leadership Institute.
Gregg Vanourek
Gregg Vanourek develops entrepreneurial leaders who live and lead with purpose and integrity. He specializes in the nexus between leadership, entrepreneurship, and personal development. He is co-author of three influential books: Triple Crown Leadership: Building Excellent, Ethical, and Enduring Organizations (a 2013 International Book Awards winner, business: general), Life Entrepreneurs: Ordinary People Creating Extraordinary Lives (Jossey-Bass), and Charter Schools in Action: Renewing Public Education (Princeton University Press).
Gregg is adjunct instructor at the Stockholm School of Entrepreneurship and at the Royal Institute of Technology in the division of entrepreneurship and innovation. He teaches courses related to Ideation, Business Model Innovation, Entrepreneurship, and Leadership. Previously, he taught at Stockholm University, the Euromed School of Management, University of Denver, and Colorado Mountain College.
Back to all webinars