How to Lead Your Business Through the Global Tilt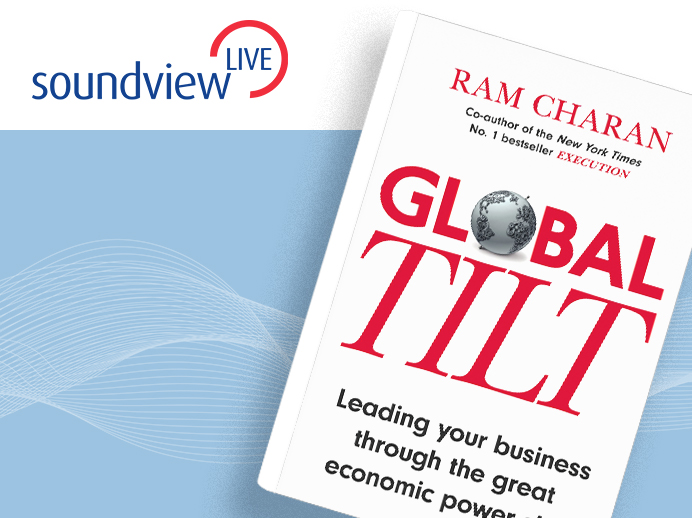 The greatest change in business history is happening right now. What are you going to do about it? Ram Charan has spent more time than anyone else on the ground observing and analyzing what he calls the "Global Tilt." In this Soundview Live webinar, How to Lead Your Business Through the Global Tilt, he gives business leaders the tools to detect trends that cut across not just industries but also countries, rethink the economic and business principles they rely on, and adapt to the speed of innovation and unprecedented needs of the new global economy.
Available: audio recording, video recording, slides
About the Speaker
Ram Charan
Ram Charan is a world-renowned business advisor, author and speaker who has spent the past 35 years working with many top companies, CEOs, and boards of our time. In his work with companies including GE, MeadWestvaco, Bank of America, DuPont, Novartis, EMC, 3M, Verizon, Aditya Birla Group, Tata Group, GMR, Max Group, Yildiz Holdings, and Grupo RBS, he is known for cutting through the complexity of running a business in today's fast changing environment to uncover the core business problem. His real-world solutions, shared with millions through his books and articles in top business publications, have been praised for being practical, relevant and highly actionable—the kind of advice you can use Monday morning.
Ram's introduction to business came early while working in the family shoe shop in a small town in northern India, where he was raised. He earned an engineering degree in India and soon after took a job in Australia. When his talent for business was discovered, Ram was encouraged to develop it. He earned MBA and doctorate degrees from Harvard Business School, where he graduated with high distinction and was a Baker Scholar, then served on the faculties of Harvard Business School and Northwestern University before pursuing consulting full time.
He has authored 15 books since 1998 that have sold over 2 million copies in more than a dozen languages. Execution, which he coauthored with former Honeywell CEO Larry Bossidy in 2002, was a #1 Wall Street Journal bestseller and spent more than 150 weeks on the New York Times bestseller list. He also has written for publications including Harvard Business Review, Fortune, BusinessWeek, Time, Chief Executive and USA TODAY.
Back to all webinars