How to Bridge the 11 Leadership Gaps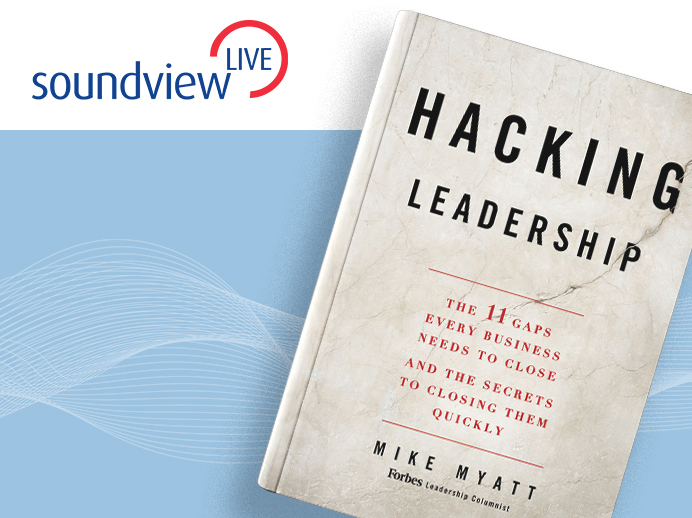 In this Soundview Live webinar, How to Bridge the 11 Leadership Gaps, Mike Myatt will equip leaders at every level with an actionable framework to identify blind spots and close leadership gaps. His presentation is based on actionable, topical leadership and management hacks to bridge eleven gaps every business needs to cross in order to create a culture of leadership: leadership, purpose, future, mediocrity, culture, talent, knowledge, innovation, expectation, complexity, and failure.
About the Speaker
Mike Myatt
Mike Myatt, is a leadership advisor to Fortune 500 CEOs and their Boards of Directors. Widely regarded as one of America's Top CEO Coach, he is the author of Leadership Matters…The CEO Survival Manual, a Forbes leadership columnist, and serves as Chairman at N2Growth.
Mr. Myatt is commonly regarded as one of the world's most recognized authorities on leadership, having been consistently recognized by Thinkers50 and other organizations as one of today's preeminent leadership thinkers.
As an executive, Mike Myatt has held numerous C-suite positions, as an entrepreneur he has been a principal in 4 successful ventures, and as a professional advisor he has worked with clients ranging from successful CEOs & other public figures to Fortune 100 companies.
He is a syndicated columnist and contributing editor on topics of leadership and innovation. His theories and practices have been taught at many of the nation's top business schools, and his work has been noted in several publications including: Forbes, Psychology Today, The Washington Post, The Wall Street Journal, Entrepreneur, Chicago Sun Times, Success, Washington Times, Chief Executive Magazine and others.
Back to all webinars