How to Lead Every Time You Speak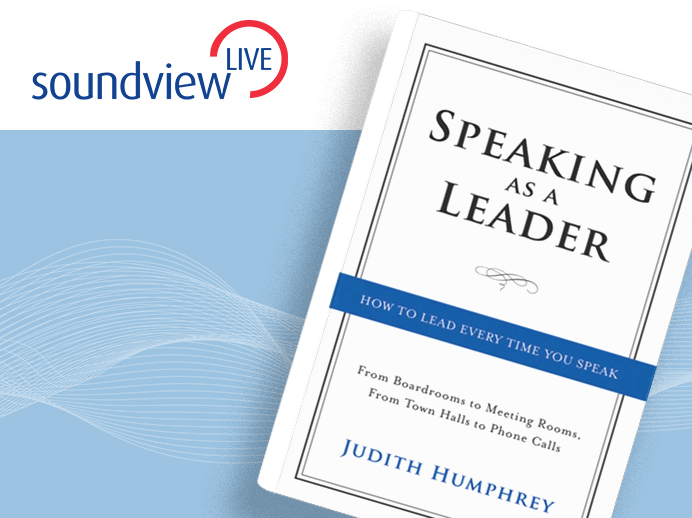 The most effective leaders use every speaking opportunity to influence and inspire. They make every formal speech, presentation, phone call, and elevator conversation a leadership opportunity. They realize that their power lies less in any title they hold than in their ability to move others.
In this Soundview Live webinar, How to Lead Every Time You Speak, Judith Humphrey puts communication squarely at the center of leadership, and shows you how to lead when you speak. She provides a template for speaking as a leader every time you interact with others, called The Leadership Model.
Available: audio recording, video recording, summary of Speaking As A Leader
About the Speaker
Judith Humphrey
Judith Humphrey is the Founder and Chief Creative Officer of The Humphrey Group. In 1988 she launched The Humphrey Group as the first Canadian firm to focus on teaching top executives to be effective speakers. The firm has grown and the range of courses has broadened, with an increasing emphasis on teaching leaders at all levels how to influence and inspire. Today Judith works closely with clients as a sought-after executive coach while continuing to design programs that expand The Humphrey Group's leadership communication intellectual property. Judith received an M.A. in English from The University of Rochester and taught communications at York University before entering the business world. Judith also was awarded the 2012 YWCA's prestigious Woman of Distinction award for Entrepreneurship. Judith is the author of Speaking as a Leader, one of Soundview's top picks for 2012, and Taking the Stage.
Back to all webinars