Business Intelligence, Emotional Intelligence, and Leadership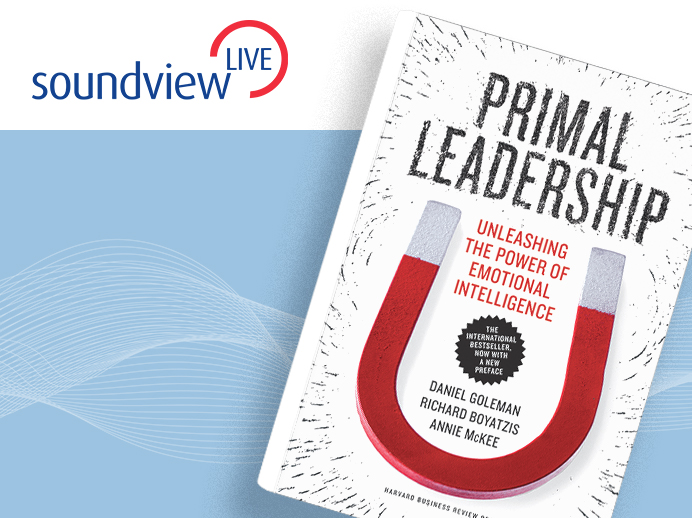 This webinar from Soundview features the research and work of Daniel Goleman and Annie McKee as presented in Primal Leadership, a book they co-authored. During this conference, Goleman and McKee take you through what emotional intelligence and primal leadership are, starting with how our neuro-physiology affects our emotions.
You'll discover how to build core strengths in the four dimensions of Emotional Intelligence: Self-Awareness, Self-Management, Social Awareness and Relationship Management. As an added bonus, these strengths will not only help you lead in your professional life, but will help you in your private life as well.
Goleman and McKee further discuss how emotional competencies build the foundation for the six styles of leadership: Visionary, Coaching, Affiliative, Democratic, Pacesetting, and Commanding. And you get insight into how you can build your emotional intelligence competencies to become a better leader, no matter what position you are in currently.
The MP3 recording from this event as well as a book summary for Primal Leadership will be available to listen to or download from your Online Library immediately after check-out.
About the Speaker
Annie McKee
Annie McKee serves on the faculty of the University of Pennsylvania Graduate School of Education, teaches at the Wharton School's Aresty Institute of Executive Education, and consults to business and organization leaders worldwide. In these roles, she designs innovative approaches to leadership development and works internationally with senior executives as an advisor, focusing on leadership and organizational transformation.
In recent years, McKee directed leadership development worldwide for the Hay Group, was the Managing Director of the Center for Professional Development at the University of Pennsylvania, and taught in the Wharton School's MBA program. She has written and presented numerous articles and speeches on subjects including emotional intelligence, organizational change, the development of leadership capabilities, management education, managing an increasingly complex workforce, and action research methodologies.
Daniel Goleman
Psychologist Daniel Goleman is the author of the groundbreaking and best-selling books Emotional Intelligence and Social Intelligence: The New Science of Human Relationships, among others. He is also co-director of the Consortium for Research on Emotional Intelligence in Organizations, based at Rutgers University.
For many years he reported on the brain and behavioral sciences for the New York Times and has also been a visiting faculty member at Harvard University.
Goleman has received many journalistic awards for his writing, including two nominations for the Pulitzer Prize for his articles in the Times, and a Career Achievement award from the American Psychological Association. In recognition of this efforts to communicate the behavioral sciences to the public, he was elected a Fellow of the American Association for the Advancement of Science.
Back to all webinars