How to Be Happy at Work: The Power of Purpose, Hope, and Friendship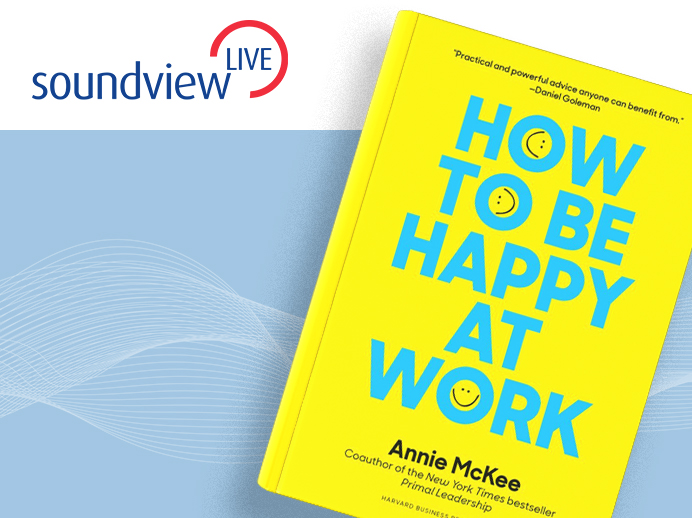 So many of us are feeling fed up, burned out, and unhappy at work: the constant pressure and stress, the unending changes, the politics – people feel as though they can't give much more, and performance is suffering.
But it's work, after all, right? Should we even expect to be fulfilled and happy at work?
In this Soundview Live webinar, Annie McKee makes the most compelling case yet that happiness – and the full engagement that comes with it – is more important than ever in today's workplace, and she sheds new light on the powerful relationship of happiness to individual, team, and organizational success.
About the Speaker
Annie McKee
Annie McKee serves on the faculty of the University of Pennsylvania Graduate School of Education, teaches at the Wharton School's Aresty Institute of Executive Education, and consults to business and organization leaders worldwide. In these roles, she designs innovative approaches to leadership development and works internationally with senior executives as an advisor, focusing on leadership and organizational transformation.
In recent years, McKee directed leadership development worldwide for the Hay Group, was the Managing Director of the Center for Professional Development at the University of Pennsylvania, and taught in the Wharton School's MBA program. She has written and presented numerous articles and speeches on subjects including emotional intelligence, organizational change, the development of leadership capabilities, management education, managing an increasingly complex workforce, and action research methodologies.
Back to all webinars
More Webinars

Business Intelligence, Emotional Intelligence, and Leadership

Speakers: Annie McKee, Daniel Goleman

Watch

Making a Bigger Impact By Saying Less

Speaker: Joseph McCormack

Watch

The New Science of Personal Success

Speaker: Al Switzler

Watch