Revisiting The 7 Habits of Highly Effective People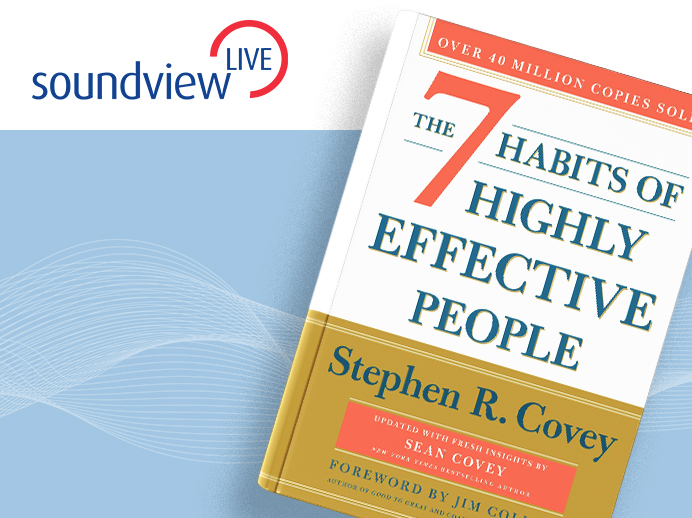 The 7 Habits of Highly Effective People by Stephen R. Covey has sold over 40 million copies and was called the #1 most influential business book of the 20th century. Following three decades of shaping leadership and personal growth, a 30th anniversary edition is being released with modern additions from Stephen's son, Sean, that will build on the powerful concepts and anecdotes of the original.
Join us for this Soundview Live webinar with president of FranklinCovey Education, Sean Covey, to learn more about these fresh insights for a new generation of leaders.
About the Speaker
Sean Covey
Sean Covey is Executive Vice President of Global Solutions and Partnerships for FranklinCovey and oversees FranklinCovey's international operations in 141 countries around the globe. Sean also serves as FranklinCovey's Education Practice Leader which is devoted to transforming education throughout the world through implementing principle-centered leadership.
Sean graduated with honors from BYU with a Bachelor's degree in English and later earned his MBA from Harvard Business School. As the starting quarterback for BYU, he led his team to two bowl games and was twice selected as the ESPN Most Valuable Player of the Game.
Born in Belfast, Ireland, Sean's favorite activities include going to movies, working out, hanging out with his kids, riding his motorcycle, and writing books. Sean and his wife, Rebecca, live with their children in the Rocky Mountains.
Back to all webinars
More Webinars

The 5 Key Actions to Creating Smart Trust

Speaker: Stephen M.R. Covey

Watch

How to Be Happy at Work: The Power of Purpose, Hope, and Friendship

Speaker: Annie McKee

Watch

Transforming Your Business Contacts Into Success

Speaker: David Nour

Watch