Setting Expectations for Powerful Working Relationships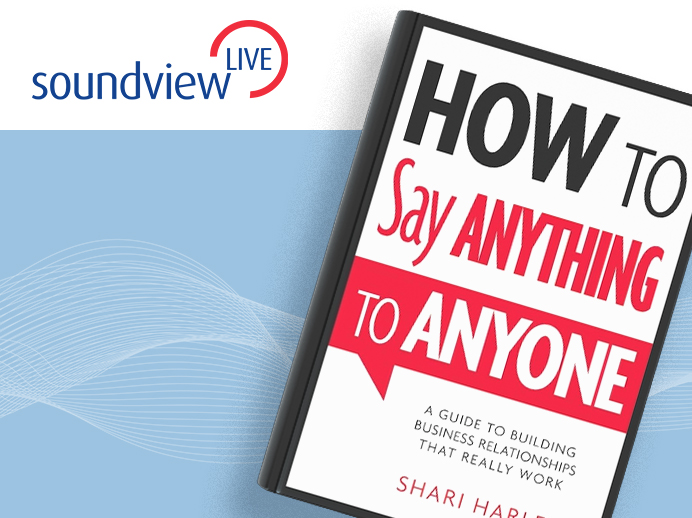 You have a request for one of your co-workers but don't know how to say it, so you don't say anything. A project you worked on for six months has become a black hole. You're frustrated, but you don't say anything. Two employees aren't working well together and it's impacting the atmosphere in the office. You don't know what to say, so you don't say anything.
In this Soundview Live webinar, Setting Expectations for Powerful Working Relationships, Shari Harley shows you how to take charge of your career by taking charge of your business relationships. You can make your work environment less tense and more productive by practicing direct communication. Set relationship expectations, work with people how they like to be worked with, and give and receive regular feedback.
Available: audio recording, video recording, summary of How to Say Anything to Anyone
About the Speaker
Shari Harley
Shari Harley, MA and Certified Speaking Professional (CSP) is the founder and president of Candid Culture an international training and consulting firm bringing candor back to the work place, creating a safe haven for employees, managers, and clients to speak honestly. Candid Culture helps corporations, associations, government agencies, schools, and not-for-profits get and keep the right customers and employees by creating better business relationships.
Shari is a business person. Her previous experience includes selling and facilitating for Dale Carnegie Training, conducting customer service training for American Century Investments, leading leadership training and successful planning for Oppenheimer Funds, and managing operations across 21, nation-wide locations, with 200 matrixed employees.
Shari is known globally as an engaging, fun, content-rich business speaker and trainer. She is the author of the book How to Say Anything to Anyone. She has an undergraduate degree from Washington University in St. Louis and a Master's degree in Applied Communication from the University of Denver, where she served as an adjunct faculty member and taught business leadership development courses.
Back to all webinars
More Webinars