Why You Get More Done When You Work Less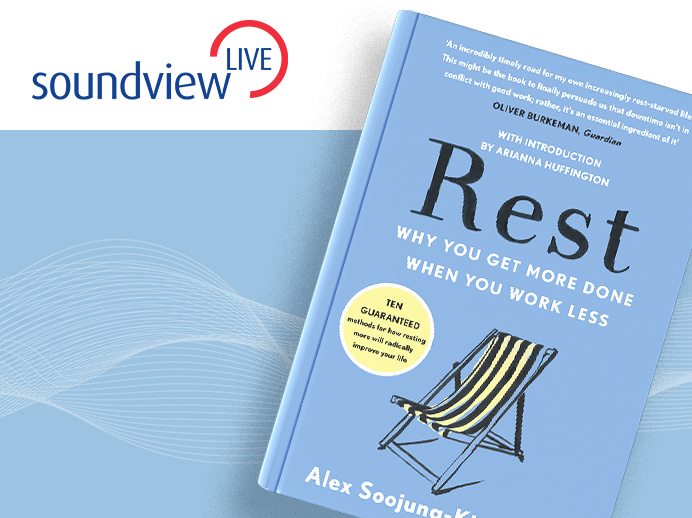 For most of us, overwork is the new normal and rest is an afterthought. In our busy lives, rest is defined as the absence of work: late-night TV binges, hours spent trawling the internet, something to do once we've finished everything else on our to-do lists. But dismissing rest stifles our ability to think creatively and truly recharge.
In this Soundview Live webinar, Why You Get More Done When You Work Less, Silicon Valley consultant Alex Pang argues that we can be more successful in all areas of our lives by recognizing the importance of rest. Drawing on rigorous scientific evidence and revelatory historical examples, Pang overturns everything our culture has taught us about work and shows that only by resting better can we start living better.
About the Speaker
Alex Soojung-Kim Pang
I've spent more than a decade as a science and technology forecaster, most recently as a senior consultant at Strategic Business Insights, a spinoff of SRI. I have particular expertise the social and institutional implications of emerging technologies and scientific practices; forecasting disruptions and practices in science; and new methods in futures work and forecasting.
My academic training is in history and sociology of science, a field that blends history, anthropology, and sociology. My research uses ethnography, interviews, historical case studies, and literary analysis (and whatever other tools are lying around) to understand users and their worlds.
Back to all webinars
More Webinars

Hidden Secrets of Organizational Efficiency

Speaker: Eric Bloom

Watch

Get Better: 15 Proven Practices to Build Effective Relationships at Work

Speaker: Todd Davis

Watch

Reclaim Your Sanity and Embrace the Daily Grind

Speaker: Leigh Weiss

Watch