The Power of Awareness in Business and Life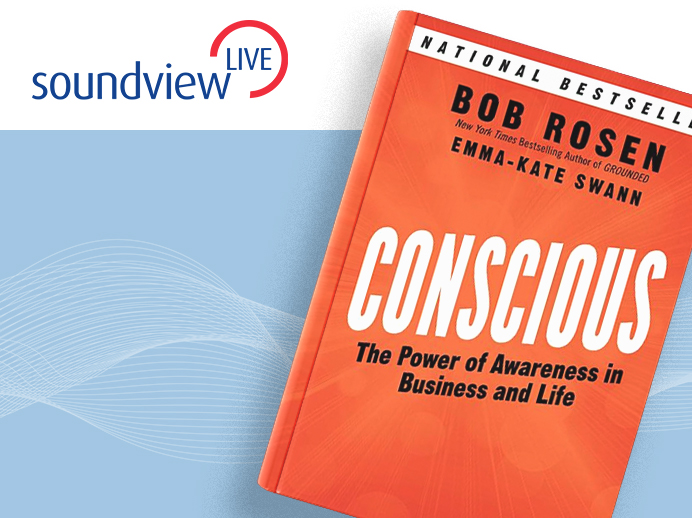 Let's face it: Our current approach to change is running out of steam. And the cost of unaware people is too high to pay. In this age of acceleration, we need a fresh approach to living and leading.
Bob Rosen's book, Conscious is our wake-up call – to be aware, awake, and accountable. In this Soundview Live webinar, Rosen explains that nothing is more important than understanding ourselves, our relationships, and our surroundings. Being conscious helps us think deeper, learn faster, and collaborate better. The more conscious we are, the faster we adapt, and the higher performing we become. Conscious is the new smart.
About the Speaker
Bob Rosen
Bob Rosen–trusted CEO advisor, organizational psychologist, and bestselling author–has long been on a mission to transform the world of business, one leader at a time. He founded Healthy Companies International over 20 years ago with the singular goal of helping top executives achieve their leadership potential.
Bob has personally interviewed over 350 CEOs—in 45 countries—in organizations as diverse as Ford, Motorola, Johnson & Johnson, Singapore Airlines, Brinks, Northrop Grumman, Toyota, Citigroup, PepsiCo, ING, and PricewaterhouseCoopers. Bob has distilled his most critical findings into the Healthy Leadership Model, which shows leaders at every level how to further develop six specific dimensions of themselves for greater impact. 
Bob graduated from the University of Virginia. He subsequently earned a PhD in Clinical Psychology at the University of Pittsburgh. Bob teaches in executive education programs, and has been a longtime faculty member in Psychiatry and Behavioral Sciences at George Washington University's School of Medicine.
Back to all webinars