The Unexpected Truth About Earning Trust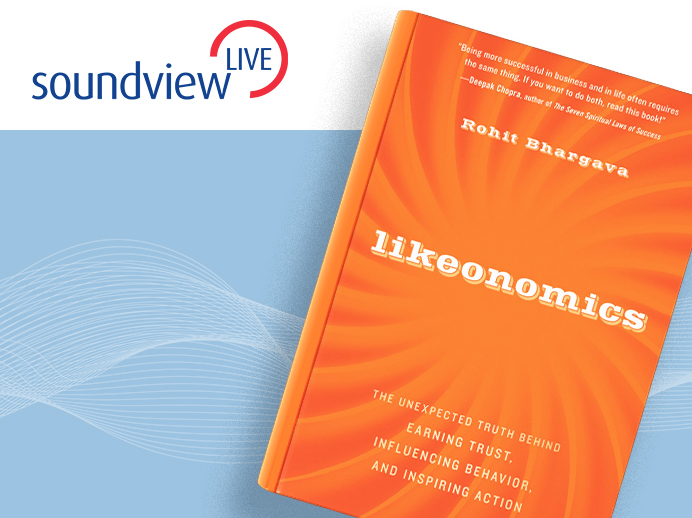 In this Soundview Live webinar, The Unexpected Truth About Earning Trust, award winning author, leading marketing strategist and Georgetown University Professor Rohit Bhargava offers a new vision of a world beyond the "Like" button where using likeability to build more powerful personal relationships is the real key to surviving the "modern believability crisis."
Bhargava uncovers the five key principles of the TRUST formula to help people be more successful — Truth, Relevance, Unselfishness, Simplicity and Timing, and provides the real-life stories to back it up.
Available: audio recording, video recording
About the Speaker
Rohit Bhargava
Rohit Bhargava is one of the founding members of the 360 Digital Influence group and a Senior Vice President at Ogilvy Public Relations, one of the world's largest communications agencies. Describing himself as a marketer in a PR agency, he believes that personality matters and that telling people you are marketing to them is a good thing. Before joining Ogilvy, Bhargava was Executive Producer at Leo Burnett in Sydney, Australia.
For the majority of his career, Bhargava has been a hired marketing expert offering creative thinking and new ideas, and has worked on developing marketing strategy for more than a hundred brands, including launching dozens of marketing programs for products, from breakfast cereal to laptops, and causes, from heart disease to world hunger.
Bhargava also authors the top-rated Influential Marketing blog where he has written more than 500 posts and been featured in media worldwide, including The Wall Street Journal, BrandWeek, Fast Company, The Globe & Mail, Marketing China (China), and AdWeek (Australia).
Mr. Bhargava lives in Washington, D.C.
Back to all webinars