How to Create Strong Relationships with Consumers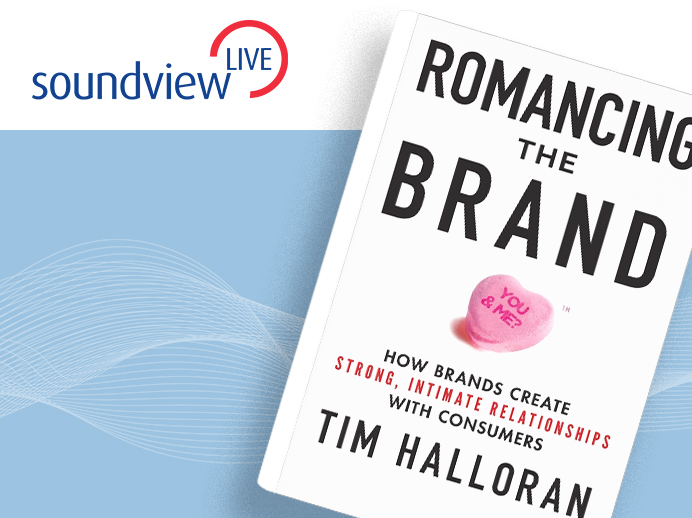 A young woman tells a focus group that Diet Coke is like her boyfriend. A twenty-something tattoos the logo of Turner Classic Movies onto his skin. These consumers aren't just using these brands. They are engaging in a rich, complex, ever-changing relationship, and they'll stay loyal, resisting marketing gimmicks from competitors and influencing others to try the brand they love.
How can marketers cultivate and grow the deep relationships that earn this kind of love and drive lasting success for their brands?
In this Soundview Live webinar, How to Create Strong Relationships with Consumers, branding expert Tim Halloran reveals what it takes to make consumers fall in love with your brand. Drawing on exclusive, in-depth interviews with managers of some of the world's most iconic brands, this webinar will arm you with an arsenal of classic and emerging marketing tools—such as benefit laddering and word-of-mouth marketing—that make best-in-class brands so successful.
About the Speaker
Tim Halloran
Tim Halloran is President of Atlanta's Brand Illumination and has provided guidance to top marketing companies, including Coca-Cola, Home Depot, Kraft Foods, Glaceau (vitaminwater/ smartwater), Georgia Pacific (Consumer Package Group), Vita Coco, Sprout Organic Baby Food, the NBA, Intercontinental Hotels Group,  Chico's/White House Black Market, Atlanta's Fox Theatre, Simon Malls, and Turner Broadcasting.
Prior to consulting, Tim spent 10 years in the Coca-Cola brand management organization, leading multiple beverage brands and marketing innovations. Tim also serves as an adjunct faculty member of Marketing at both Emory University's Goizueta Business School and Mercer University's Stetson School of Business where he teaches in the BBA, MBA, Evening MBA, and Executive MBA programs.
Back to all webinars