The Proven Method for Reaching Decision Makers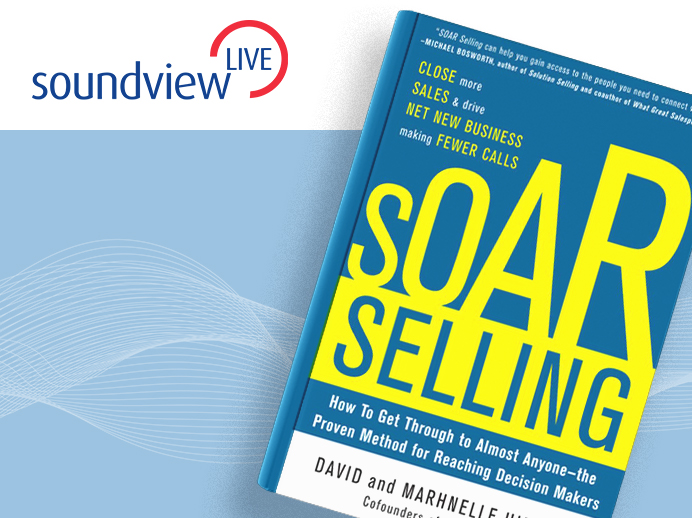 It's time to stop wasting valuable time using the by-the-numbers-plus-luck method — a grueling process that causes attrition and unethical dialing. In this Soundview Live webinar, The Proven Method for Reaching Decision Makers, David & Marhnelle Hibbard will present SOAR Selling, a solution to this critical problem by revealing a proven way for any salesperson to make fewer calls, reach more decision makers, and, most important, get more appointments.
The authors have tested the SOAR (Surge of Accelerating Revenue) Selling formula on thousands of live sales calls throughout key global markets. The results are staggering. According to the authors' client research, SOAR is astonishingly effective.
Available: audio recording, video recording
About the Speaker
David Hibbard
David Hibbard has over 25 years experience in the sales industry. As co-founder of Dialexis, an industry leading sales training organization that creates high-producing sales leaders, he trains professionals in a variety of industries at companies such as Cisco, Apple, AT&T, Oracle, and Toshiba. By presenting the proven and top performing SOAR Selling process, David empowers individuals and businesses to be more profitable, more successful, and marketplace leaders while maintaining integrity and trust.
David's corporate career began at Procter and Gamble, where he developed the formal elements of his talent. He then spent 18 years in the highly competitive commercial real estate industry. As a result of his sales skills, determination, and street savvy, he was honored as the "Number-One Rookie" in the country and the "Number-One Broker" in one of the most competitive brokerage operations in the United States. After achieving exceptional success brokering, David accepted a Leadership role at Grubb and Ellis, where he was one of the leading trainers for all Grubb & Ellis incoming broker candidates.
Marhnelle Hibbard
Marhnelle Hibbard has over 20 years experience in sales and personal development. As co-founder of Dialexis, she is a personal leadership coach and delivers keynotes and workshops on leadership and sales. A sought-after speaker, her expertise and strategies have helped organizations such as DuPont, Herman Miller, Steelcase, Wells Fargo and other executives throughout the United States to grow their business, enhance team results, and reach new levels of sales success.
Marhnelle began her professional career as one of the few women in Commercial Real Estate brokerage and Commercial Real Estate development. During her 17 years marketing major development projects throughout California, she gained many of the experiences she relies upon to deliver the intensity of her message.
Back to all webinars