Return On Integrity: The New Definition of ROI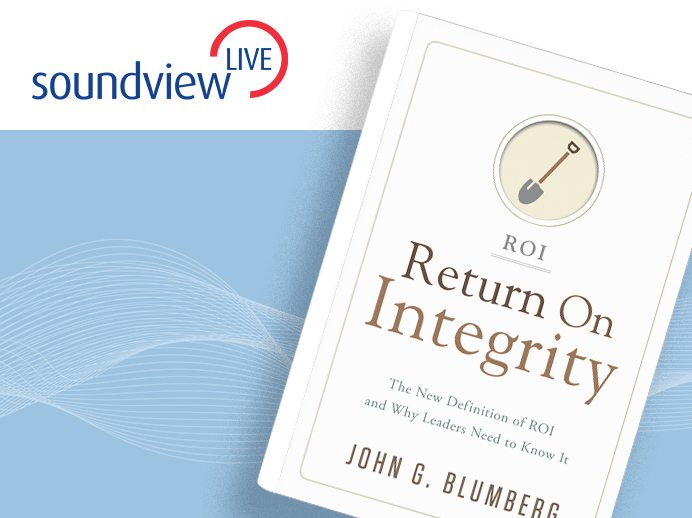 Core values are not just a guide; they should be the basis of every decision and action in your professional life. They have been featured in countless books over the last decade, but none has taken the search as deep or has focused on the intersection of leaders' personal values and those of your organization.
In this Soundview Live webinar, Return On Integrity: The New Definition of ROI, John G. Blumberg does precisely that. Blumberg asks CEOs and top leadership to dig deep, to discover the most untapped strategic resource available to you as a leader. This is your chance to truly discover the core values you live by and, in turn, engage an impactful set of core values for the organization you lead.
About the Speaker
John Blumberg
John Blumberg started his career as a CPA at Arthur Andersen, but shifted his focus from numbers to people and spent 14 years in human resources, including worldwide recruiting responsibilities at Andersen.
In 1996, John left behind a firm and a career he loved to follow his dream to go into professional speaking. Today, as a professional speaker, John has been featured in keynotes and workshops in 10 countries … and continues to speak with corporations, professional associations and universities across America. His presentations most often focus on working with organizations who want to develop leaders of substance and build value with values.
John has received the designation of Certified Speaking Professional from the National Speakers Association. The CSP is the highest earned designation in the speaking profession and held by less than 10% of the members of the International Federation of Professional Speakers.
John is the author of a best-selling book titled Silent Alarm. It is a parable of hope for busy professionals! It has been endorsed by leadership gurus such as Ken Blanchard and Tim Sanders. For some, it is a message of inspiration … and for others, a wake-up call for their very survival. For everyone … it is an experience you won't soon forget!!
John is also the author of GOOD to the CORE: Building Value with Values, published by Simple Truths (www.simpletruths.com). This simple little book will challenge you right to your core. Have any doubts if you are good to the core? This brand new release will leave you with no doubt … but a lot to think about!
Back to all webinars