The New Playbook for Managing Across Differences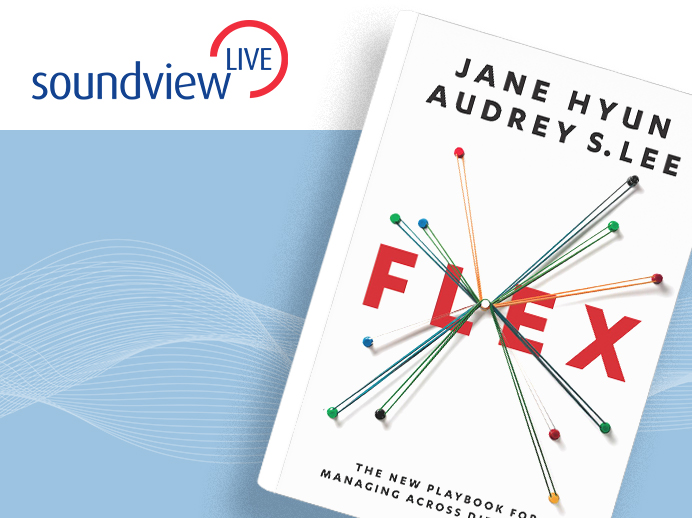 In this Soundview Live webinar, The New Playbook for Managing Across Differences, renowned executive coaches and global leadership strategists Jane Hyun and Audrey Lee offer lessons on the vital skill of "Flexing" – the art of switching leadership styles to more effectively work with people who are different from you. Creating flex in a company's management style will impact all aspects of developing the talent you have, attracting future talent and building relationships with customers in this competitive marketplace. Flex will show you how.
About the Speaker
Jane Hyun
Jane Hyun is an internationally renowned executive coach and leadership strategist to Fortune 500 companies, MBA programs, and non-profit organizations. In addition to coaching professionals to maximize their potential and advance their careers, she advises senior management teams and diversity councils on building effective global teams and the critical role of building the talent pipeline. The firm's Cultural Fluency Roundtables and Bamboo Ceiling® Series leadership programs has garnered praise from global Fortune 100 companies in the U.S. and in key global markets. She consults with organizations who want to grow their bottom line through the effective deployment of their talent.
Previously, Jane was Vice President of Human Resources/Talent Development at JP Morgan, and Director of Recruiting at Deloitte & Touche and Resources Global.
A graduate of Cornell University with a degree in Economics and International Studies, she is active with the Cornell Women's Alumnae Council. She is also an Advisor to the Toigo Foundation and the Center for Talent Innovation, researchers of recent Harvard Business Review studies "Leadership in Your Midst" and "The Sponsor Effect"
Audrey Lee
Audrey S. Lee is an executive coach and global leadership & diversity strategist, who consults with Fortune 500 companies to develop integrated leadership strategies that impact business practices throughout the organization. She expertly combines program facilitation, coaching, and leadership consulting practice with more than thirteen years of experience in marketing communications, product/program strategy, alliance and channel marketing. A seasoned stage performer of more than 20 years, she also integrates her on-stage experiences with her business and coaching strategies to create global programs that focus on effective communications and presentation skills.
With her unique background, Audrey is a frequent speaker at international conferences, corporate initiatives, and community events. Her clients include professionals at Fortune 500 companies and entrepreneurial start-up enterprises, in a variety of industries including financial services, high-tech, media/communications, automotive and consumer products. She is a graduate of Georgetown University's Executive Certification Program in Leadership Coaching, and also holds degrees in Spanish and Music from Indiana University (Bloomington, IN).
Audrey currently maintains her own leadership practice, and collaborates with Hyun & Associates as a Senior Consultant. Previously, she was Principal and Vice President of Hyun & Associates. Prior to her career in diversity and leadership development, she managed key marketing initiatives in small and large high technology companies such as Adaptec, Fujitsu Computer Products of America, Network Peripherals, Philips Semiconductors, Philips Components and Raychem.
Back to all webinars
More Webinars