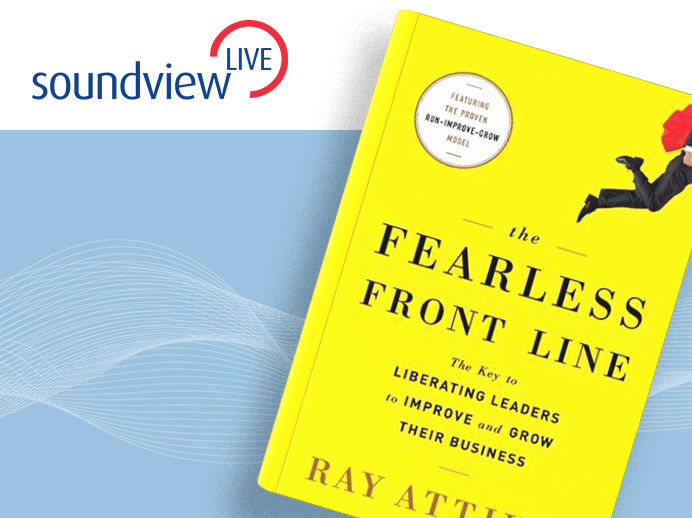 Leaders are committed to improving and growing their businesses, but all too often they find themselves mired in operational details and daily issues, leaving no time to pursue bold visions.
In this Soundview Live webinar, The Fearless Front Line, Ray Attiyah provides a call to action for these leaders: to set a standard of fearlessness for front line workers which in turn liberates leadership to focus on the big-picture. Ray will provide attendees with a proven system, processes and tools to create responsive, innovative, and nimble organizations and inspired, accountable, and confident teams. With The Fearless Front Line, leaders can benefit from a proven program to drive perpetual and transformational improvement and growth.
About the Speaker
Ray Attiyah
Mr. Ray Attiyah co-founded Definity Partners, LLC., (formerly Midwest Manufacturing Solutions) in 1996 and serves as its Chief Innovation Officer. Mr. Attiyah oversees all accounts and is committed in improving companies while inspiring the performance of front line employees. He has more than 20 years of operational experience and has pioneered the integration of business excellence and talent development, creating a community of leaders and generating exceptional levels of performance among all client organizations.
Considered a trainer's trainer, his motivation lies in removing obstacles to achieve quick, visible and high-impact results. He is driven by transforming frustrated employees, who previously believed obstacles were a way of life, into ultimate leaders and role models within their organizations. He served as Operations Director for Johnson & Hardin. Previously, he also worked for Johnson & Johnson as both a process engineer and an operations supervisor. He earned a bachelor's of science degree in industrial engineering from Rutgers University and an MBA from Xavier University.
Back to all webinars
More Webinars