The 6 Megatrends You Need to Know About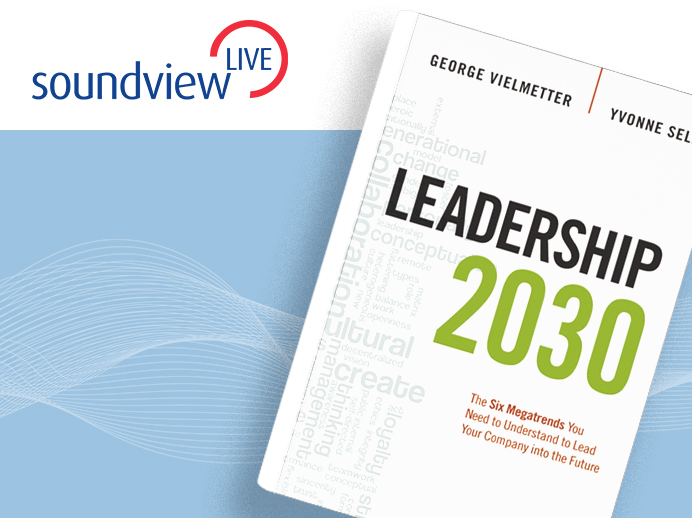 In this Soundview Live webinar, The 6 Megatrends You Need to Know About, Georg Vielmetter and Yvonne Sell uncover six megatrends that will dramatically impact organizations' markets, cultures, systems, and processes, drawn from original research conducted jointly with foresight company Z-Punkt and further analyzed by Hay Group. Research findings and case studies provide compelling evidence of each megatrend and highlight the skills, capabilities, and attitudes leaders must cultivate. This forward-thinking presentation will help businesses everywhere prepare for the seismic changes on the horizon.
About the Speaker
Georg Vielmetter
Georg Vielmetter is a member of Hay Group's European leadership team. He has responsibility for the European leadership & talent practice, and is regional director for the consulting practices across Europe. He works with senior executives and top teams on leadership transformation aimed at improving organizational and human capital. He also acts as a business coach to CEOs and senior executives.
Georg has a master's degree with honors in sociology, economics, and psychology from Philips-University of Marburg, Germany; and a Ph.D. with honors in philosophy and social theory from the Free University of Berlin. Among other academic posts, he has been a visiting fellow at Saint Louis University in the USA, and an adjunct professor at the Free University of Berlin.
He is an alumnus of the German National Academic Foundation, and a member of the German Philosophical Society and the German Sociological Association. Georg has published works on leadership, culture, and philosophy, including a book on interpretation and behavioral sciences. His philosophical work has been nominated for two awards. His new book (co-authored with Yvonne Sell) on the future of leadership, Leadership 2030, was published in February 2014 by Amacom Books,
a division of the American Management Association.
Yvonne Sell
Head of the UK & Ireland leadership and talent (L&T) practice, Yvonne is a director at Hay Group, and a member of the core European L&T team. Canadian-born and based in London, she has considerable
experience in helping leaders to improve results by implementing competency systems and creating processes to identify, develop and manage talent.
Yvonne has a Ph.D. in industrial and organizational psychology from the University of Calgary, and retains a keen interest in practical leadership research. Prior to joining Hay Group, Yvonne ran large-scale change management programs for Deloitte and as an independent consultant, and was a line manager for a major retail firm.
Back to all webinars