Successful Decision-Making in a Confused World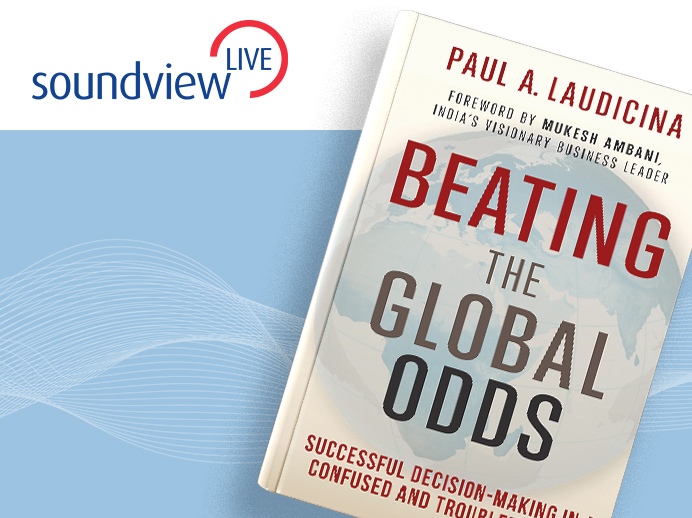 In this Soundview Live webinar, Successful Decision-Making in a Confused World, Paul Laudicina, author of Beating the Global Odds, provides the ultimate road map to building a better, more cohesive, and more coherent tomorrow, for your business, your world, and yourself.
Change is essential, and during this time together, Laudicina takes a behind-the-scenes look at the people and institutions that are thinking big to repair the international social fabric and help pave the way for a better future so that you can follow in their footsteps.
Available: audio recording, video recording, summary of Beating the Global Odds
About the Speaker
Paul A. Laudicina
Paul A. Laudicina is chairman emeritus, A.T. Kearney and chairman of GBPC. Taking on this role in 2006 after the firm regained its independence through a management buyout, he has guided A.T. Kearney through an extraordinary turnaround. The firm has recorded consistent double-digit growth and its global footprint has expanded by 30 percent to include offices in nearly 40 countries.
Previously, he was Managing Director of A.T. Kearney's Global Business Policy Council, a forum of CEOs and thought leaders focused on assessing global strategic opportunities and risk management. In addition to his more than 30 years of private-sector experience, he has also served in the public sector, as legislative director to then U.S. Senator, Joseph Biden. He is the author of a number of articles and books on global strategic issues, including Beating the Global Odds (2012) and World Out of Balance (2005), and was named to Consulting magazine's annual ranking of the Top 25 Most Influential Consultants in 2005 and again in 2007.
Back to all webinars