The Simple Approach to Powerful Leadership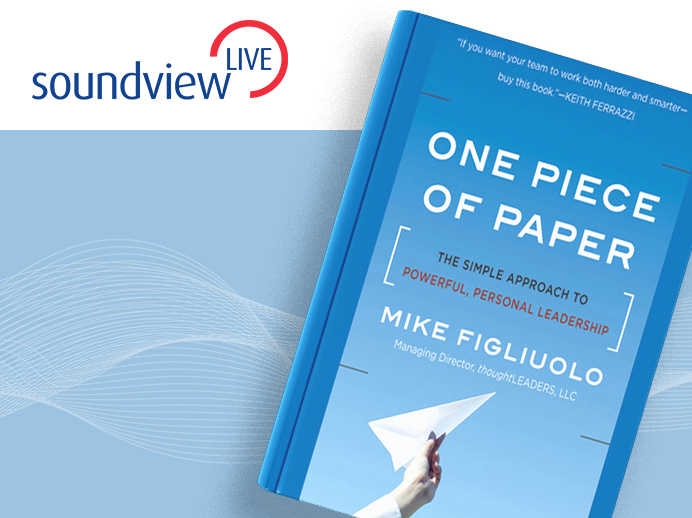 Leadership seems complicated to many. With competing philosophies and methods, as well as a rapidly changing workplace, is it possible to clearly, succinctly, and simply convey your personal approach to leading others?
In this Soundview Live webinar, The Simple Approach to Powerful Leadership, Mike Figliuolo provides an authentic, accessible model for any leader to do just that. Mike guides you through a simple approach for creating, articulating, and living your personal leadership philosophy — one that can be shared on a single piece of paper.
The audio recording, video recording, and a summary of One Piece of Paper will be available to listen to or download from your Online Library immediately after check-out.
About the Speaker
Mike Figliuolo
firm focused on leadership development. He graduated from the United States Military Academy at West Point in 1993 where he was an honor graduate and a Distinguished Cadet. Upon graduation, he was commissioned as an officer in the United States Army. He spent five years as an Armor officer in a variety of roles including Platoon Leader, Executive Officer, Personnel Officer and ROTC Instructor at Duke University.
Mike's most recent roles were Vice President, Quality Improvement, Customer Service, Business Development & Service Support for Scotts LawnService where he was responsible for acquisitions, division strategy, technology infrastructure, customer service, and franchise operations. Previously, he was Vice President, Strategic Planning at The Scotts Miracle-Gro Company (SMG) where he was responsible for setting the strategic direction of the company by working directly with the executive team (CEO, CFO, Division Presidents) to assess where to take the business long-term and then identifying opportunities to achieve corporate goals.
Back to all webinars