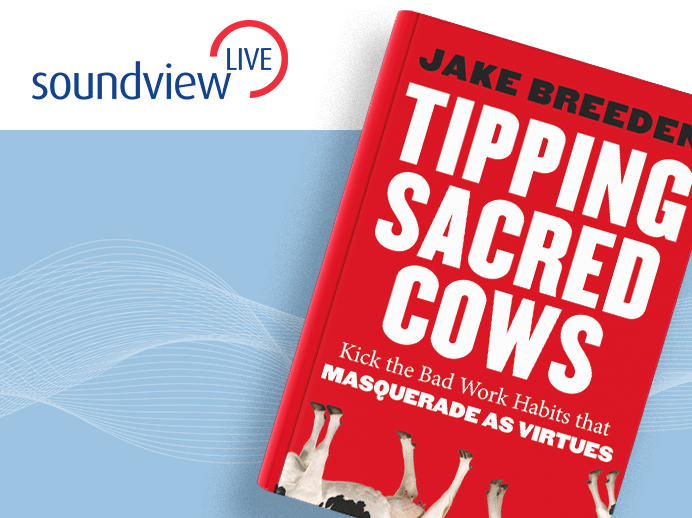 In this Soundview Live webinar, Tipping Sacred Cows, author Jake Breeden reveals how leaders — and anyone in the workplace — can overcome dangerous behaviors that are most often recognized as virtues.
Based on the latest scientific research in behavioral economics, neuroscience and psychology, and experience coaching thousands of leaders in 27 countries, Breeden builds our self-awareness, citing seven of the most destructive sacred cows. By helping us see the dark side of virtues like these, Breeden reveals hidden traps that lie between good intentions and great results, clearing a path for leaders — and anyone in the workplace — to finally realize their full potential.
Available: audio recording, video recording
About the Speaker
Jake Breeden
As an educator, author, and keynote speaker, Jake Breeden gives you new ways of seeing your world. In 2013, he's helping more people than ever see differently — his keynote clients include INFORMS 2013 (the world's largest analytics conference), the California Banker's Association, Federal Computer Week, Duke University and Google.
Breeden teaches as part of the Global Faculty for Duke Corporate Education — the world's top ranked provider of custom corporate education. He has taught, coached, challenged and provoked leaders at Google, IBM, Cisco, Microsoft, OppenheimerFunds, Starbucks, Sprint, Deloitte and St. Jude Children's Research Hospital. He lives in Chapel Hill, NC, where his daughters keep him learning and laughing.
Back to all webinars