Stop Boring & Start Exciting Your Customers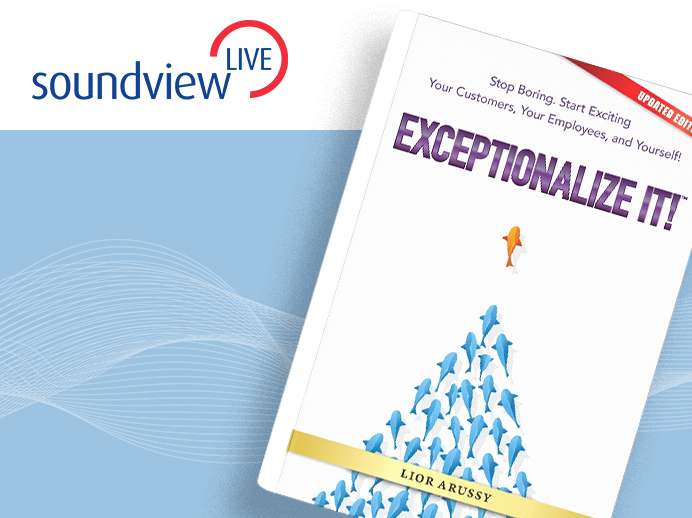 Why is exceptionalism so important now? The answer is quite simple. You have no other choice. Meeting expectations is no longer sufficient. Doing your job is not a reason to keep you as an employee. Customers expect exceptional experiences. Managers demand exceptional performance. And ultimately, your commitment to excellence requires it.
In this Soundview Live webinar, Stop Boring & Start Exciting Your Customers, Lior Arussy provides a manifesto of how to rise up to the exceptional performance within organizations and us as individuals. It is a wake-up call to stop accepting mediocrity and average performance. And yes, this event will be a mirror that may reveal an inconvenient truth. While respecting your achievements to date, staying relevant requires you to constantly examine the simple question: Are You Exceptional?
About the Speaker
Lior Arussy
One of the world's authorities on customer experience, customer-centric transformation and strategy execution – Lior Arussy delivers results. His strategic framework converts organizations from product to customer centricity. Arussy is the founder of Strativity Group, a global customer experience research and consulting firm which helps clients create delightful customer experiences and execute profitable customer strategies. Arussy grew the company from his garage to a multi-national professional firm with offices around the world. His work has impacted 220 million customers and 375,000 employees in 21 countries.Arussy is the author of 5 books on customer experience, employee engagement and experience innovation. He has published over 100 articles, including for the Harvard Business Review. For his thoughts leadership, he has won several awards.
Back to all webinars