Release the Power of Your Organization's Values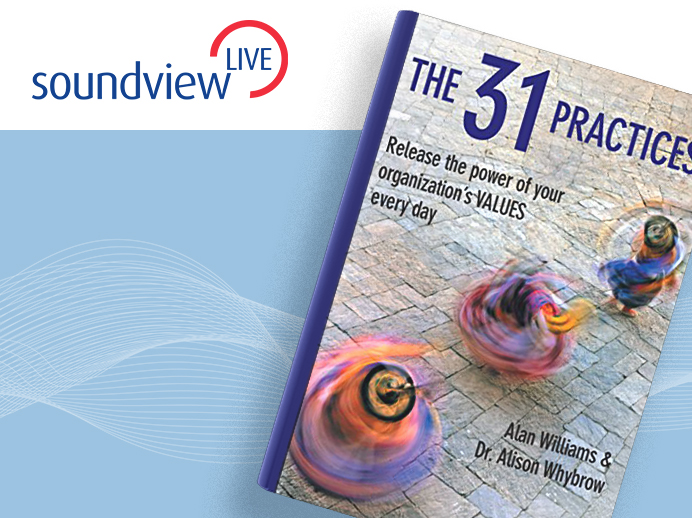 In this Soundview Live webinar, Release the Power of Your Organization's Values, Alan Williams and Alison Whybrow show how an organization's values and brand can be translated into the daily practices and behaviour of their employees, drawing a golden thread from the boardroom to the front line customer experience.
The 31Practices® method weaves together principles and practices from psychology, sociology, philosophy, neuroscience, leadership and business to significantly enhance customer and employee satisfaction and loyalty. It has been successfully adopted by large and small companies, across sectors from around the world.
About the Speaker
Alan Williams
Alan Williams coaches service sector organizations, internationally and in the UK to deliver inspiring service for competitive advantage. He created the 31 Practices concept and approach. With more than 20 years of senior leadership experience in customer service based businesses, Williams has a track record of success in devising holistic SERVICEBRAND strategies and then using deep operational experience to turn the creative thinking into sustainable, practical reality. He is a Fellow of the Institute of Hospitality, a Board member of the British Quality Foundation, a past President of the Meetings Industry Association and a Steering Group member of the recently formed UK Values Alliance.
Alison Whybrow
Alison Whybrow is award winning Chartered and Registered Psychologist and Supervisor who coaches senior and high potential leaders across industry sectors. She works with individual and system strengths, combining theoretical depth and pragmatism to create a world in which people can flourish. Whybrow challenges clients to live up to their potential and to get out of their own way. She is completely focused on her clients, provoking their learning and growth and is intellectually nimble, bringing academic and practical depth with 20 years of experience working with clients in heavy industry, banking, health and media.
Back to all webinars
More Webinars