The Key to Driving a High-Performance Culture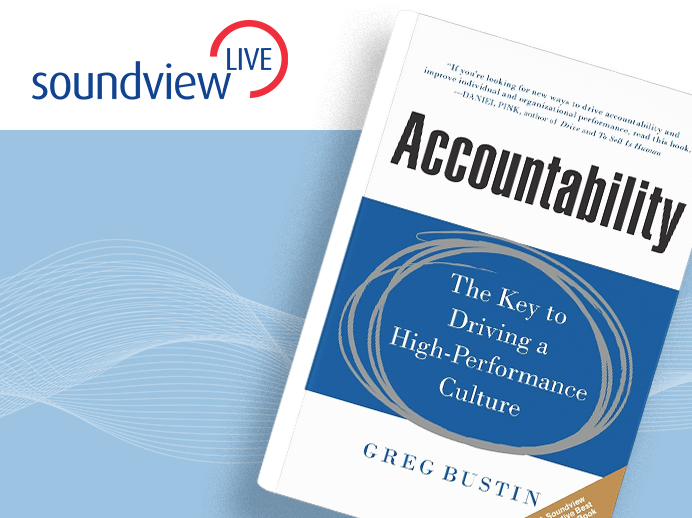 In this Soundview Live webinar, The Key to Driving a High-Performance Culture, Greg Bustin will transform the way you manage, maintain, and motivate yourself, your team, and, ultimately, your workforce. As a business leader's guide to the best practices to turn longterm vision into reality, he introduces the Seven Pillars of Accountability and shows how each pillar is a crucial part of effective leadership:
Greg offers powerful concepts and practical examples you can apply in your organization along with provocative questions and useful exercises to help you create a high-performance culture in your workplace. It's a must-attend for anyone who wants practical, actionable steps to build and grow a thriving business.
About the Speaker
Greg Bustin
Greg led the Dallas office of Edelman Worldwide to unprecedented levels of success before founding his own firm in 1994. As a business owner, he faced tough choices where the final decision was his. He's worked with leadership teams of many of the world's leading companies, including Burger King, Nextel, Nucor, OGE Energy Corp., PepsiCo, TXU and Trammell Crow Company in connection with new ventures, market expansions and turnarounds. Greg's views
about effective management have been published in The Wall Street Journal, Financial Executive, The Journal of Corporate Renewal and elsewhere.
As a sought-after speaker, Greg has delivered more than 200 keynote speeches and private workshops throughout the U.S., Canada and UK, and in 2014, he will travel to Australia to speak to CEO groups there. In 2004, he published Take Charge! on leading in times of change, and in 2005 he became a Chair for Vistage International, the world's leading CEO membership organization. Today, he chairs three Vistage groups, and in 2010 was named Master Chair, a distinction earned by fewer than 30 of the more than 600 Vistage Chairs worldwide. He works regularly with the leadership teams of companies of all sizes and industries, and has led more than 160 strategic planning sessions.
Back to all webinars
More Webinars