Reimagining Consumer Experiences to Drive Growth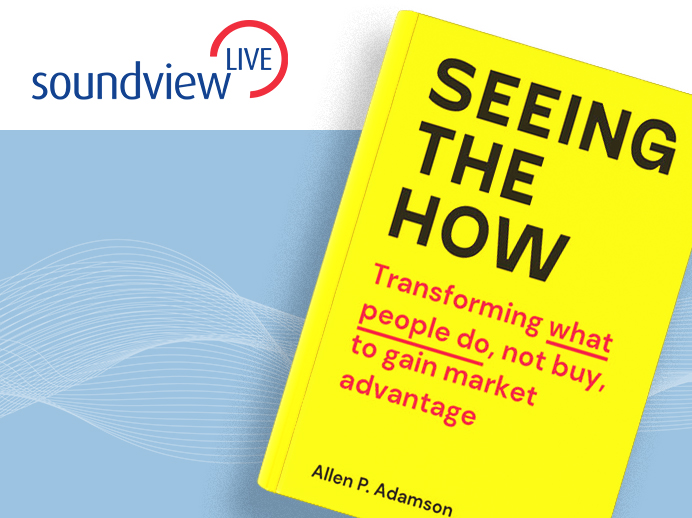 In this Soundview Live webinar, author of the book, Seeing the How: Transforming What People Do, Not Buy, to Gain Market Advantage, Allen Adamson gives today's disruptors a path to offering consumers a new and better way to do what they do, clearly demonstrating how to see opportunities, and how to seize them to great advantage.
In This Webinar, You Will Learn:
A step-by-step guide to breaking into the market based on the tactics of the biggest experience disruptors out there, including Netflix, Apple, Warby Parker, and Stitch Fix
How to bring your disruption to life
How to command market segments
How to cultivate consumer loyalty
About the Speaker
Allen Adamson
Allen P. Adamson is a noted industry expert in all disciplines of branding. He's worked with a broad spectrum of clients in industries ranging from packaged goods and technology, to health care and financial services, to hospitality and entertainment, as well as brands in the non-profit sector. Allen is Co-founder of Metaforce, a team of "special forces" that help organizations identify and activate the right growth strategies. Prior to Metaforce, Allen was Chairman, North America of Landor Associates, a global branding firm. Under his leadership, the company partnered with a wide array of iconic brands, including Accenture, GE, Johnson & Johnson, FedEx, HBO, Marriott, MetLife, P&G, Sony, and Verizon. Before Landor, Allen was an executive at Unilever, responsible for leading marketing for a number of major packaged goods brands. Previously, he held senior management positions at Ogilvy & Mather and DMB&B.
Back to all webinars
More Webinars