Managing Employees As If They're Real People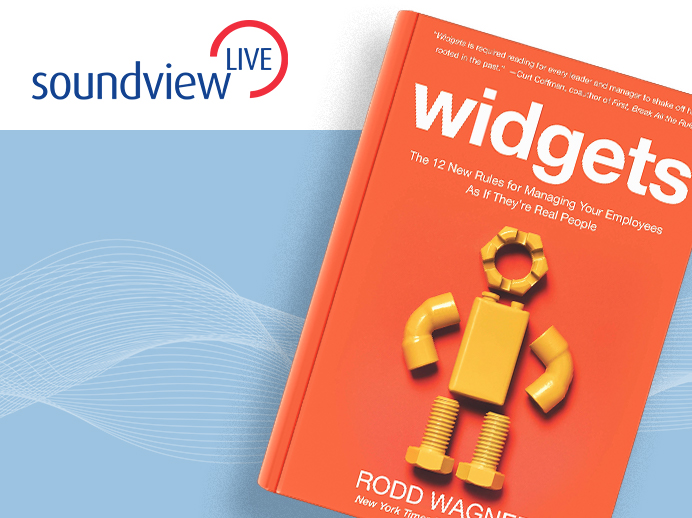 Seeing the failures of traditional employee engagement methods, seeing companies struggle to keep up with a changing workforce, the team behind Widgets went into the field. They asked pointed and predictive questions of employees around the world. What emerged from the research, from the clear patterns inside those organizations, and from what they've seen work were 12 imperatives. Call them the New Rules of Engagement.
In this Soundview Live webinar, Managing Employees As If They're Real People, Rodd Wagner provides a guide to better understanding human nature on the job and to understanding each of the New Rules that emerged from the team's extensive research. It's a guide for ferreting out and fixing all the ways your company treats its people like widgets.
About the Speaker
Rodd Wagner
Rodd Wagner is one of the foremost authorities on employee engagement and collaboration. Wagner's books, speeches, and thought leadership focus on how human nature affects business strategy. He currently serves as vice president of employee engagement strategy at BI Worldwide.
Wagner is a confidential advisor to senior executives on the best ways to increase their personal effectiveness and their organizations' performance. His work has taken him around the world, to the executive suites of major corporations in nearly every industry, to the Pentagon, and to the aircraft carrier USS Nimitz.
Wagner holds an M.B.A. with honors from the University of Utah Graduate School of Business. He was formerly a principal of Gallup, the research director of the Portland Press Herald and WGME-TV in Maine, a reporter and news editor for The Salt Lake Tribune, and a radio talk show host.
Back to all webinars