Lead More Powerfully by Being More Human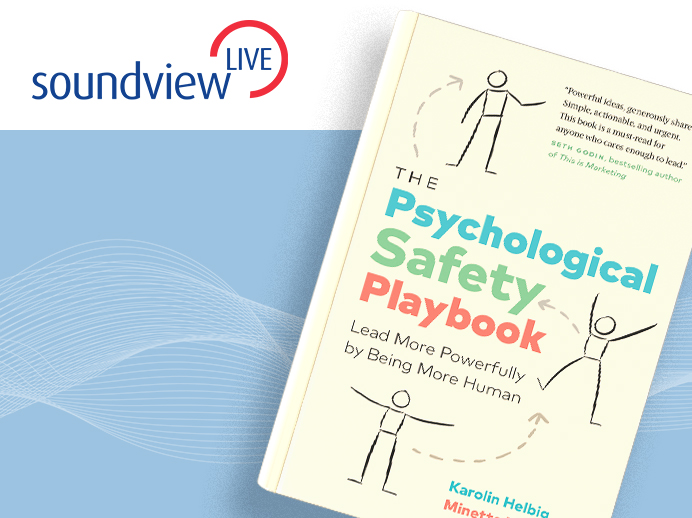 In this Soundview Live webinar, authors of the book, The Psychological Safety Playbook: Lead More Powerfully by Being More Human, Karolin Helbig and Minette Norman present a powerful guide for transformative leadership that will demonstrate how to make every employee, at every level, feel seen, heard, and respected.
In This Webinar, You Will Learn:
A step-by-step guide to lead your team to the highest levels of performance and innovation.
How to improve day-to-day interactions and relationships with employees.
Selections of the twenty-five specific actions that will create a healthier culture and more psychological safety in your workplace.
About the Speaker
Karolin Helbig
Karolin Helbig is an internationally recognized leadership consultant who coaches diverse, high-ranking clients to reach their full potential. Guided by her conviction that true leadership begins from within, Helbig's workshops and team coachings are rooted in the foundations of mindfulness and emotional intelligence. With this foundation, psychological safety is the essential vitamin needed by any ambitious team. With a PhD in human genetics, extensive consulting experience at McKinsey, and clients from diverse industries, Helbig offers an innovative, empathic approach that yields high-impact results.
Minette Norman
Minette Norman is an accomplished leadership consultant who brings decades of leadership experience in the software industry to her dynamic speaking engagements and impactful consultancy. A believer in the power of vibrant and diverse professional landscapes, Norman's workshops and consulting engagements focus on developing inclusive leaders who bring out the best in their global, multicultural teams. A celebrated keynote speaker on inclusive workplaces, transformative leadership, and psychological safety, she was named one of the Most Influential Women in Bay Area Business by the San Francisco Business Times.
Back to all webinars
More Webinars