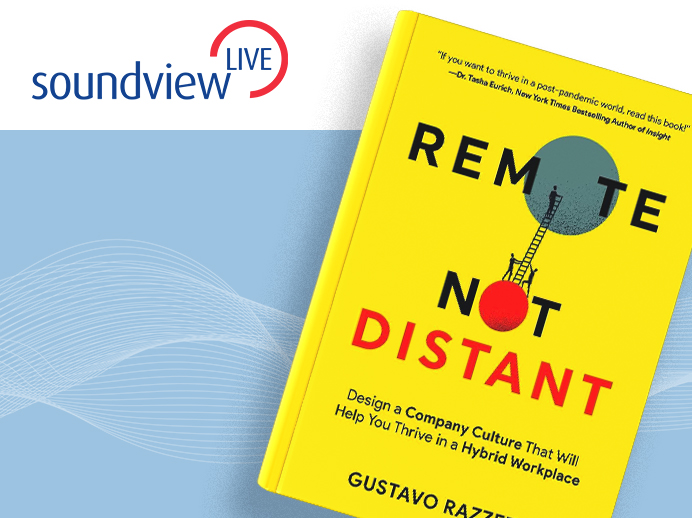 In this Soundview Live webinar, top culture thought leader, Gustavo Razzetti, provides a roadmap to understand, adapt to, and succeed in a hybrid workplace. While most companies have struggled to keep their culture alive remotely since the pandemic, some are successfully riding the waves of the future. Razzetti addresses multiple areas of culture, from keeping your team engaged and improving remote communication to managing conflict, facilitating courageous conversations, and unleashing innovation.
What you'll learn
Seize the benefits and avoid the pitfalls of the hybrid workplace
Create a safe remote workplace where people belong, collaborate, and innovate
Lean into hard, courageous conversations to solve conflict
Collaborate in a more productive way, avoiding burnout
Increase speed and liberate your team from limiting rules
About the Speaker
Gustavo Razzetti
Gustavo Razzetti is the CEO and founder of Fearless Culture, a culture design consultancy that helps teams do the best work of their lives. For more than 20 years, Razzetti has helped leaders from Fortune 500s, startups, nonprofits, and everything in between on every continent but Antarctica. Gustavo is also the creator of the Culture Design Canvas, a framework used by thousands of teams and organizations across the world to map, assess, and design their culture. In addition to his consulting work with clients, Gustavo regularly speaks with leaders and teams about culture change, teamwork, and hybrid workplaces.
Back to all webinars