How to Measure Cultural and Executive Candor to Build Trust and Strengthen Competitive Advantages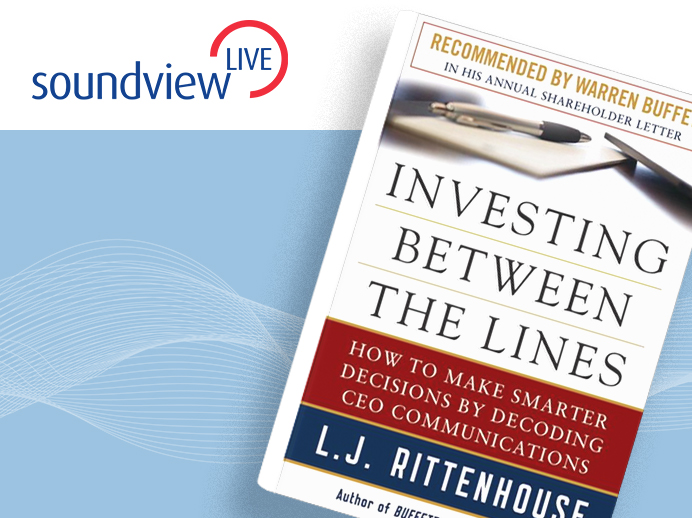 In this Soundview Live webinar, Executive Advisor and Investment Banker L.J. Rittenhouse introduces a revolutionary method for evaluating and predicting corporate success and failure. She will present her long research to show how analyzing words and financial accounting are each critical to assess the health of corporate cultures and leadership. 
Participants will learn to define candor to become more effective leaders.  Rittenhouse will show that Candor leads directly to the bottom line and supports her research findings from coding and scoring communications and correlating scores with market performance.
Business case studies will show how to quantify the amount of F.O.G. in your company's internal and external communication.  You will gain access to candor best practices which illustrate powerful authenticity, accountability and empathy: qualities that are critical to building relational and social capital. 
Rittenhouse's approach for recognizing at-risk businesses predicted the collapse of Enron, Lehman Brothers and the dangers of investing in AIG, Wachovia, Merrill Lynch and General Motors – even as the financial community and media was recommending "Buy."
About the Speaker
Laura Rittenhouse
Laura Rittenhouse is President of Rittenhouse Rankings Inc, a CEO advisory and investor relations company that conducts annual benchmark surveys of corporate candor. This research demonstrates that companies consistently striving to promote candor will typically gain competitive advantage and superior market performance.
She specializes in showing clients how to penetrate corporate blind spots and anticipate strategic risks and opportunities. Her candor analyses have been featured on CNN, The Wall Street Journal, CNBC and various magazine and journals.
Prior to founding Rittenhouse Rankings, Rittenhouse was a senior vice president at Lehman Brothers Inc., where she advised clients on valuations, securities offerings, and M&A. She has an MBA and MS from Columbia University, and is a founding member of the non-profit, Families with Children from China.
Back to all webinars
More Webinars