How to Prepare For a Multi-Generational Workforce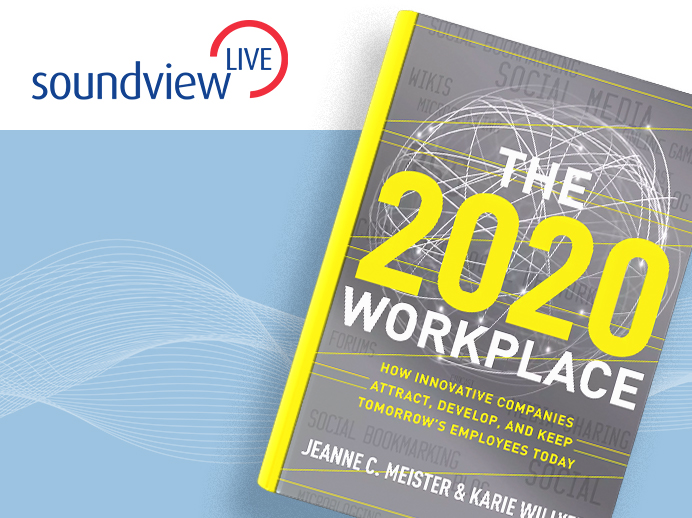 Jeanne Meister and Karie Willyerd define "The 2020 Workplace" as one that provides an intensely personalized, social experience to attract, develop, and engage employees across all generations and geographies.
This Soundview Live webinar serves as a practical guide for companies of all sizes to transform their workplace so they can compete more effectively in a global marketplace — one defined by an economic climate in flux and by powerful demographic, technological, and generational forces.
The MP3 recording and slides from this event as well as a book summary for The 2020 Workplace will be available to listen to or download from your Online Library immediately after check-out.
About the Speaker
Karie Willyerd
KARIE WILLYERD is the Workplace Futurist for SuccessFactors, an SAP company. She is the coauthor of the bestseller, The 2020 Workplace: How Innovative Companies Attract, Develop & Keep Tomorrow's Employees Today. Her articles and blogs appear regularly in Harvard Business Review and in the HR and Learning press. She has been a Chief Learning Officer for five Fortune 500 companies.
Jeanne C. Meister
Jeanne is Partner of Future Workplace, a consulting firm dedicated to assisting organizations in re-thinking, re-imagining, and re-inventing the workplace. Jeanne is the receipt of the Distinguished Contribution in Workplace Learning Award by the Association For Talent Development (ATD). This award is given to one executive each year honoring their contribution and body of work in the field of workplace learning. Jeanne's name is synonymous with the establishment and institutionalization of global corporate universities. Jeanne is the author of three books, Corporate Quality Universities, Corporate Universities, and Jeanne's latest book, The 2020 Workplace: How Innovative Companies Attract, Develop & Keep Tomorrow's Employees Today (Harper Collins), which is in its 13th printing.
Back to all webinars
More Webinars