The Future of Human Resources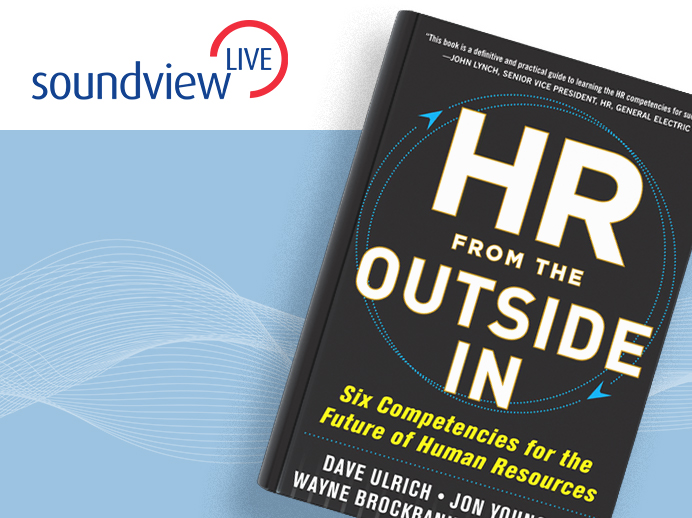 Can human resources deliver value to "the business"? Yes, it can and must. And that's what this Soundview Live webinar, The Future of Human Resouces, is about. Jon Younger, co-author of HR From the Outside In, provides tips for guiding and empowering HR professionals — and entire departments — so that HR can bring benefits of a different kind to everyone at your organization.
Since 1987, Younger and his co-authors have systematically studied the competencies that HR professionals use to contribute to their own effectiveness and to business success. In tracing and shaping the HR profession, they articulate and enhance HR's ability to deliver on its potential and promises.
Available: audio recording, video recording, summary of HR from the Outside In
About the Speaker
Jon Younger
Jon is a Partner of the RBL Group and leads the Strategic HR practice area. He is also a Director of the RBL Institute. Beginning in 2013, he will shift to a part time contribution within the firm as Partner Emeritus consulting to a select number of firm clients in the areas of HR strategy, HR transformation, and leadership development, and speaking on these topics to corporate executive group.
Jon's career has been a mix of consulting, executive management, and HR leadership. Prior to joining The RBL Group, he was Chief Learning and Talent Officer of one of the largest U.S. based financial services organizations, responsible for the leadership development, corporate learning, staffing, performance and talent management, and succession planning. He has also managed executive compensation and HR strategy.
For the dozen years prior, he was a co-founder and Managing Partner of the Novations Group, a strategy implementation and leadership development firm, and led the Novations New York office. He was also the executive vice president and COO of NetValue U.S., the internet firm, and led a global internal consulting team for Exxon Corporation.
Jon has been a faculty affiliate for Duke Corporate Education, a faculty partner of the Center for Executive Development (CED).  His Ph.D. in Organization and Social Psychology is from the University of Toronto. He and his family live in Short Hills, N.J.
Back to all webinars
More Webinars