How to Build Courageous Cultures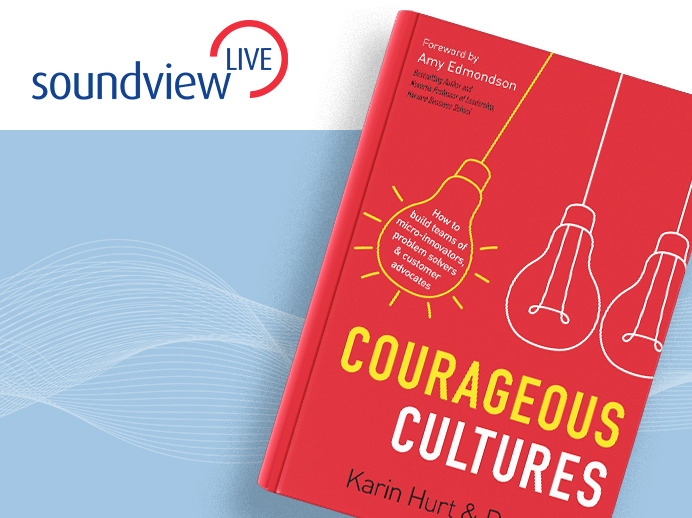 Join the authors of Courageous Cultures, Karin Hurt and David Dye, as they discuss the disconnect in communication between leaders and employees in the workplace. Many leaders are convinced they have an open environment that encourages employees to speak up and are shocked when they learn that employees are holding back.
In this Soundview Live webinar, you'll get practical tools to uncover, leverage, and scale the best ideas from every level of your organization.
About the Speaker
Karin Hurt
As a keynote speaker, leadership consultant, and MBA professor, Karin helps leaders improve business results by building deeper trust and connection with their teams. A former Verizon Wireless executive, she has over two decades of experience in sales, marketing, customer service, and human resources.
Recently, Karin was recognized on Inc's list of 100 Great Leadership Speakers For Your Next Conference, American Management Association's 2015 Leaders to Watch, and one of the top 100 thought leaders in Trusted Business Behavior by Trust Across America.
Her award-winning blog, Let's Grow Leaders, has grown into a highly interactive, international community. Her book, Overcoming An Imperfect Boss is available on Amazon. He next book, Winning Well: A Manager's Guide to Achieving Results Without Losing Your Soul is being published by AMACOM this Spring.
Karin has a BA in Communication from Wake Forest University, an MA from Towson University in Organizational Communication, and additional graduate work at the University of Maryland, where she currently teaches in the MBA and Executive Education programs.
David Dye
David M. Dye, founder and president of Trailblaze, Inc., a leadership development business, is an internationally recognized professional speaker, trainer, and facilitator. He works with leaders, managers, and supervisors who want to lead their team to the top without losing their soul (or mind) in the process. David works with leaders to increase their influence, solve common leadership frustrations, and improve their productivity through people-centered leadership.
David founded Trailblaze, Inc., to train leaders who want to build energized, motivated, and productive teams. He believes that leaders at every level can master the essentials of influence, the most critical component of success.
David was honored as a top leadership expert to follow in 2015, holds a master's degree in nonprofit management, and is a member of the Association of Talent Development. He writes for the Huffington Post, has appeared in Fast Company, Entrepreneur, and on radio and television throughout the United States. The award-winning author of Winning Well: A Manager's Guide to Getting Results Without Losing Your Soul and The Seven Things Your Team Needs to Hear You Say, David has been listed with leadership influencers including Seth Godin, Tom Peters, Kouzes & Posner, and John Maxwell.
Back to all webinars
More Webinars