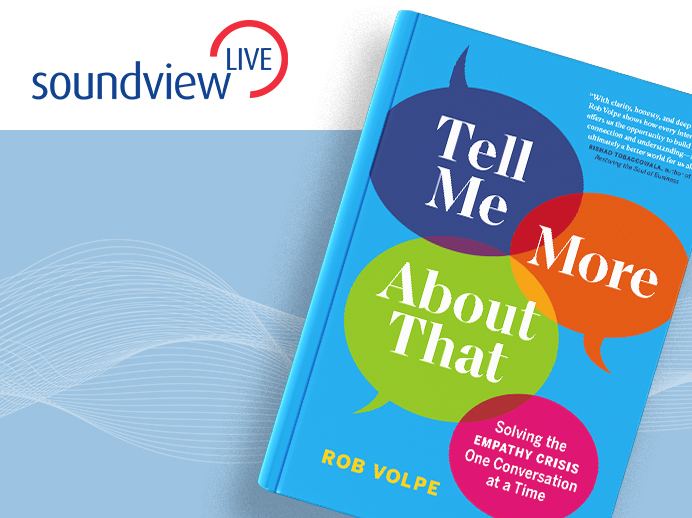 In this Soundview Live webinar, brand strategist, thought leader, and author of Tell Me More About That, Rob Volpe draws on his years of market research, conducting thousands of in-home interviews with everyday people, to illustrate the 5 Steps to Empathy—the actions you can use in everyday interactions to build a strong and reflexive empathy muscle.
In This Webinar, You Will Learn:
Practical examples of what empathy looks like
How empathy works and why we need it in business and in life
Ways to build up empathy that will strengthen your relationships, enhance your communication skills, and become a more effective leader
About the Speaker
Rob Volpe
Rob Volpe is an astute observer of life and a master storyteller who brings empathy and compassion to the human experience. As CEO of Ignite 360, he leads a team of insights, strategy, and creative professionals serving the world's leading brands across a range of industries. As a thought leader in the role of empathy in marketing and the workplace, Rob frequently speaks on the topic at conferences, corporations, and college classes. He is a graduate of Syracuse University's S.I. Newhouse School of Public Communications and lives in San Francisco with his husband and three cats.
Back to all webinars
More Webinars