How to Become the Leader You Would Follow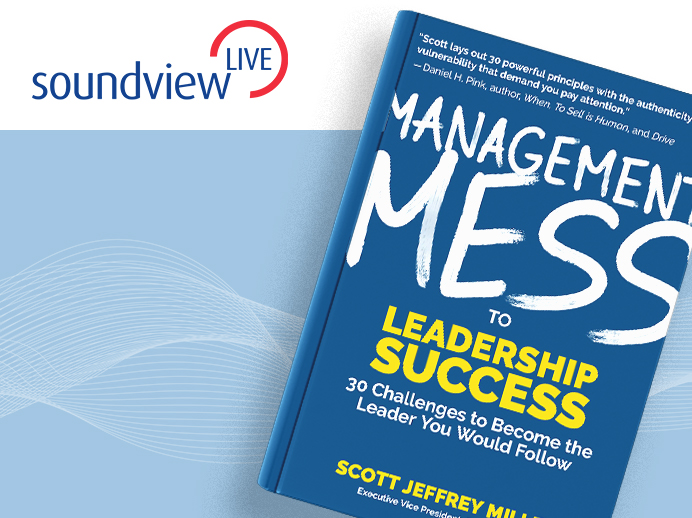 Your leadership skills are about to change.
Scott Miller knows what it's like to fail. He was demoted from his first leadership position after only three weeks—and that's just one of several messy management experiences on his two-decade journey to leadership success. Scott's not alone. Everyone fails. But something sets him apart: his transparency and willingness to openly share his story in a way that is immediately relatable.
Set around Scott's book, Management Mess to Leadership Success,this Soundview Live webinar will outline leadership challenges, honed by FranklinCovey through years of research, that illustrate how to rise when you fall and how to survive and even thrive as an unfiltered leader.
About the Speaker
Scott Miller
Scott Miller is the president and founder of Core Strategy Group in Atlanta, Ga. He was founder of the pioneering political consulting firm Sawyer/Miller Group in New York. Among Sawyer/Miller Group's clients were Corazon Aquino, Vaclav Havel, Boris Yeltsin, Kim Dae Jung, Virgilio Barco, USA for Africa/Hands Across America, Lech Walesa, The Better World Foundation, over 40 U.S. candidates for governor or senator, and every Democratic presidential candidate from 1976 through 1988.
Core Strategy Group's corporate clients have included McDonald's, Verizon, CitiGroup, Microsoft, The Coca-Cola Co., News Corp., The Tribune Co., Highfields Capital, Cox Enterprises, Women & Co., Knight-Ridder, The Southern Co., Janus Capital Group, The Home Depot, The Boston Beer Co., and Disney.
Back to all webinars