Give and Take: A Revolutionary Approach to Success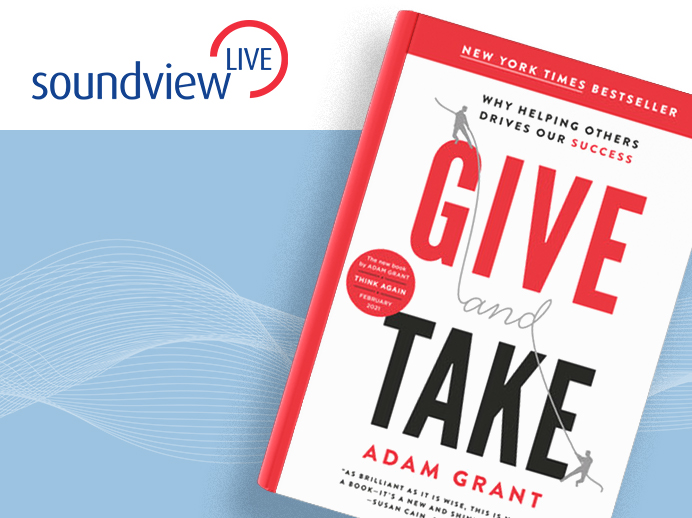 In this Soundview Live webinar, Give and Take: A Revolutionary Approach to Success, Adam Grant examines the surprising forces that shape why some people rise to the top of the success ladder while others sink to the bottom. The findings from Grant's book Give and Take will change your fundamental ideas about how to succeed — at work and in life. For generations, we have focused on the individual drivers of success: passion, hard work, talent, and luck. But in today's dramatically reconfigured world, success is increasingly dependent on how we interact with others. Grant illuminates what effective networking, collaboration, influence, negotiation, and leadership skills have in common.
Available: audio recording, video recording, slides
About the Speaker
Adam Grant
Adam Grant is Wharton's youngest tenured professor and top-rated teacher. He has been recognized as one of HR's most influential international thinkers, BusinessWeek's favorite professors, the world's 40 best business professors under 40, and Malcolm Gladwell's favorite social science writers. Previously, he was a record-setting advertising director at Let's Go Publications, an All-American springboard diver, and a professional magician.
Adam was tenured at Wharton while still in his twenties, and has been honored with the Excellence in Teaching Award for every class that he has taught. He has designed experiential learning activities based on The Apprentice in which students have raised over $325,000 for the Make-A-Wish Foundation while developing leadership, influence, networking and collaboration skills.
Adam earned his Ph.D. in organizational psychology from the University of Michigan, completing it in less than three years, and his B.A. from Harvard University, magna cum laude with highest honors and Phi Beta Kappa honors. He has more than 60 publications in leading management and psychology journals, and his pioneering studies have increased performance and reduced burnout among engineers and sales professionals, enhanced call center productivity, and motivated safety behaviors among doctors, nurses and lifeguards.
He is the author of many best-selling books, including Think Again, Give and Take, Originals, and Option B.
Back to all webinars