How to Beat the 8 Ego Traps that Derail Careers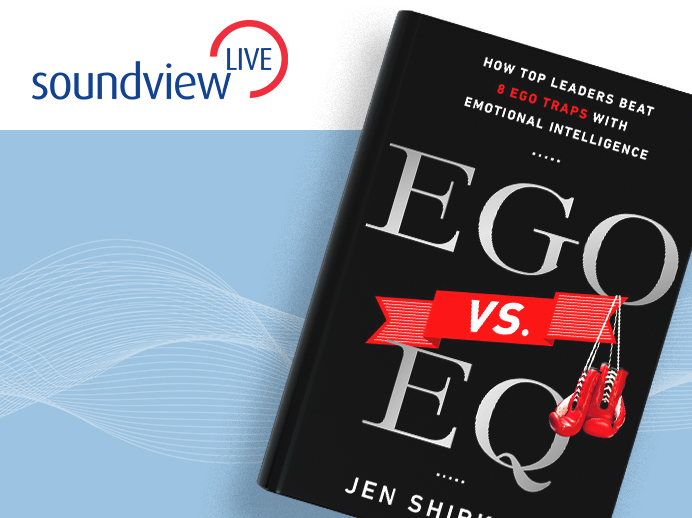 In this Soundview Live webinar, How to Beat the 8 Ego Traps that Derail Careers, Jen Shirkani will share strategies for using emotional intelligence (EQ) as a primary prevention tool to avoid career derailment. The executive leadership failure rate is high: two in five CEO's fail in the first 18 months on the job and two thirds of business' will disappear just a decade after founding. This webinar will teach you how to identify the most common reasons for leadership ineffectiveness, including the cascading consequences they create, and provide tools to prevent them.
Drawing on real-life anecdotes from Jen's 20-years of coaching and consulting, she will provide research and case study examples ideal for anyone currently in an executive leadership role, including business owners, or those wanting to become a dynamic future leader.
About the Speaker
Jen Shirkani
Jen Shirkani provides insight into human dynamics in a humorous and engaging way. Her expertise in emotional intelligence (EQ) is presented from a leadership perspective filled with practical strategies and immediately useable tips. Jen has worked with organizations from the Fortune 50 to family-owned companies helping leaders leverage the power of EQ.
She was born and raised in Southern California and holds a Master's Degree in Organizational Leadership. Her book, Ego vs EQ: How Top Leaders Beat 8 Ego Traps Using EmotionalIntelligence was written to help leaders help themselves. She takes the science of EQ and brings it to practical application for the senior executive or business owner who not only wants to survive, but thrive.
Back to all webinars
More Webinars

Presenting Value to Executives

Speaker: Michael Nick

Watch

Revisiting The 7 Habits of Highly Effective People

Speaker: Sean Covey

1hr 05min

Watch

Get Better: 15 Proven Practices to Build Effective Relationships at Work

Speaker: Todd Davis

Watch