Driving Results One Person at a Time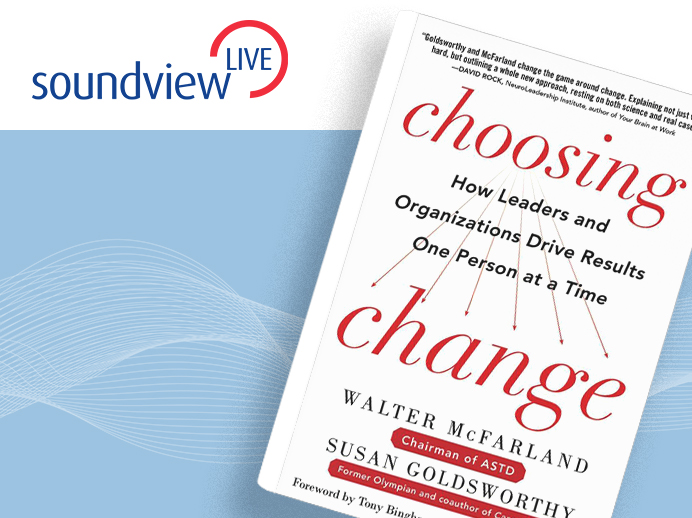 If there's one certainty in business today, it's this: Change is coming your way. You have no choice in the matter. The choice you do have is either to embrace it or bury your head in the sand.
In this Soundview Live webinar, Driving Change One Person at a Time, Walter McFarland and Susan Goldsworthy offer a proven new model for not just facing inevitable change – but leveraging it as a tool for long-term success. The first step is personal: You must decide that you are going to change; only then can you lead change. From there, the authors present the tactics and strategies you need to compete today.
About the Speaker
Walter McFarland
Walter McFarland is the 2013 Chair of the American Society of Training and Development's (ASTD) Board of Directors and founder and president of Windmill Human Performance, LLC, a consultancy focused on the leadership of large-scale organizational change. He is a former senior vice president at Booz Allen Hamilton, and a Senior Director at the Hay Group.
In the public sector, Walter has led large-scale organizational change efforts at the Internal Revenue Service, the Department of Homeland Security, the Department of Defense, and the Government of Guam and advised change efforts in the UK and Italy.  In the private sector, Walter has supported merger and acquisition efforts in the financial, pharmaceutical, and manufacturing industries. Walter's work in organizational change has earned:  the Hammer Award, the IRS Commissioner's Award, recognition from the Smithsonian Institution, and Booz Allen's highest consulting honor, the Professional Excellence Award.
Susan Goldsworthy
A former Olympian, Susan Goldsworthy is an international executive coach, author, and speaker. She is founder and CEO of Goldswolf & Associates, a company that specializes in leadership development, executive coaching, and change communications. She is also an Associate at Genesis Advisers, (known for their work on transitions based on the best-selling book, The First 90 Days). She works with a number of multinational clients across a wide range of industries and has been a faculty member on Organizational Development and Change at Webster University.
Susan is an executive coach and occasional speaker at several world-leading business schools including IMD (International Institute for Management Development) in Switzerland, INSEAD in Singapore and France, and IFL, the executive education arm of Stockholm School for Economics. In addition to her many post-graduate qualifications, Susan is one of the first people worldwide to be awarded an Executive Masters in the Neuroscience of Leadership. She is also certified to use a number of psychometric assessment tools. She has worked at senior management levels for Japanese, American, and European corporations in both publicly and privately-owned companies. Susan has extensive experience in leading global communications, culture, brand management and diversity programs.
Back to all webinars
More Webinars