The 8 Principles to ENGAGED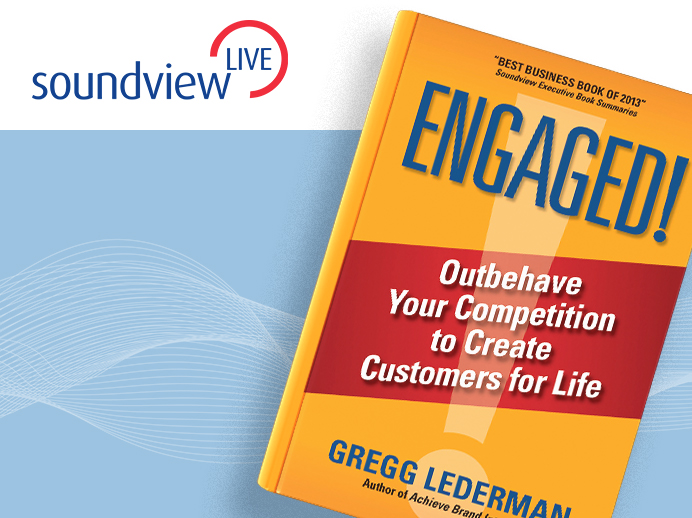 In this Soundview Live webinar, The 8 Principles to ENGAGED, Gregg Lederman will reveal the Eight Principles that every manager needs to create a workforce that "lives the company brand" in ways that lead to an experience that helps you create customers for life.
Lederman will dispel popular myths about employee rewards and employee and customer satisfaction efforts. He will introduce a quick and effective tool you can use to find out how ENGAGED your company is (the ENGAGED Index). You'll learn tools and techniques that will help you put your plan together so that rather than imagining what could be, you'll actually design what should be.
Available: audio recording, video recording
About the Speaker
Gregg Lederman
Driven by a relentless desire to help as many people as possible "Live the Brand," Gregg Lederman has made it his personal mission to dramatically improve people's lives by positively enhancing work cultures and the customer experience while increasing the company's profitability. His work, along with the work of his team at Brand Integrity Inc., where he is currently the Managing Partner, has helped many of today's "best places to work" companies such as Wegmans Food Markets, Erickson Retirement Communities, and the American Red Cross close the gap between their business strategies and the employee behaviors needed to bring those strategies to life.
Gregg received his MBA from the William E. Simon Graduate School of Business Administration, where he has been a professor teaching the Achieving Brand Integrity methodology since 2003. He is also a member of the National Speakers Association. Gregg resides in Rochester, NY, with his wife and three daughters.
Back to all webinars
More Webinars