You Can Enhance Employee Motivation in 10 Minutes by Friday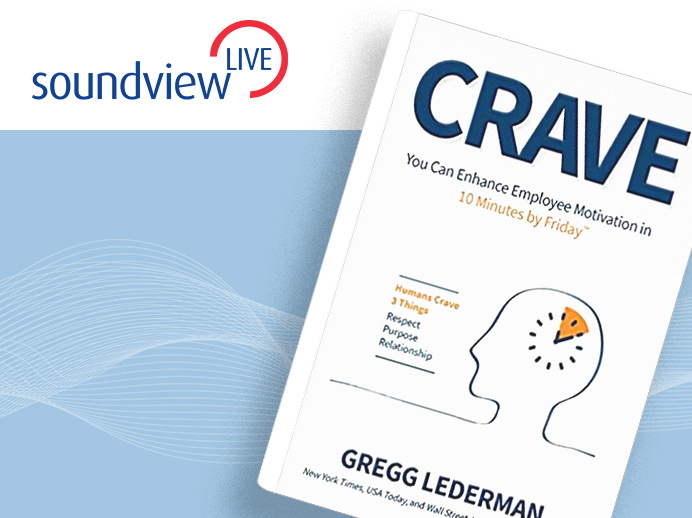 Give people what they CRAVE and good things happen.
Overwhelming evidence supports this. In fact, more than eighty years of research proves the idea that humans have three primary cravings at work that, once fulfilled, make them happier and more productive. Yet, despite billions of dollars spent to improve employee motivation, most businesses still suffer from a lack of engagement.
In this Soundview Live webinar, Gregg Lederman provides a field-tested and science-backed pathway to improving engagement and the overall customer experience.
About the Speaker
Gregg Lederman
Driven by a relentless desire to help as many people as possible "Live the Brand," Gregg Lederman has made it his personal mission to dramatically improve people's lives by positively enhancing work cultures and the customer experience while increasing the company's profitability. His work, along with the work of his team at Brand Integrity Inc., where he is currently the Managing Partner, has helped many of today's "best places to work" companies such as Wegmans Food Markets, Erickson Retirement Communities, and the American Red Cross close the gap between their business strategies and the employee behaviors needed to bring those strategies to life.
Gregg received his MBA from the William E. Simon Graduate School of Business Administration, where he has been a professor teaching the Achieving Brand Integrity methodology since 2003. He is also a member of the National Speakers Association. Gregg resides in Rochester, NY, with his wife and three daughters.
Back to all webinars
More Webinars