The Journey from Good Boss to Superboss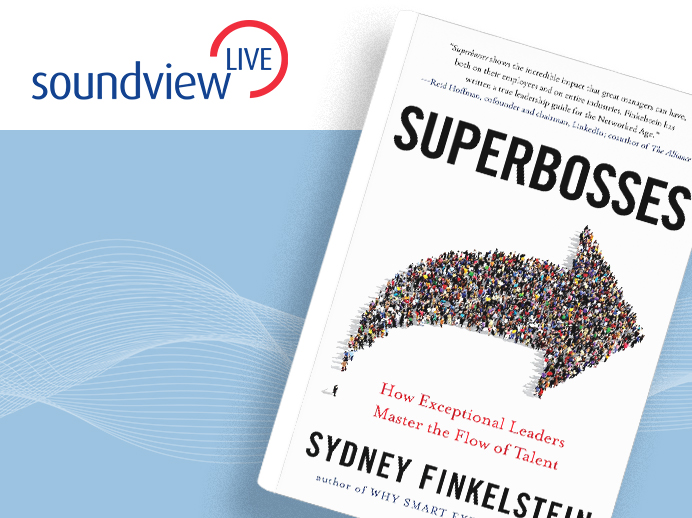 What do football coach Bill Walsh, restaurateur Alice Waters, television executive Lorne Michaels, technology CEO Larry Ellison, and fashion pioneer Ralph Lauren have in common? They share a similar approach to finding, nurturing, leading, and even letting go of great people. The way they deal with talent makes them not merely success stories, but what Sydney Finkelstein calls superbosses.
In this Soundview Live webinar, The Journey from Good Boss to Superboss, Sydney Finkelstein shares the fascinating stories of superbosses and their protégés. He explores a phenomenon that never had a name before and shows how each of us can emulate the best tactics of superbosses to create our own powerful networks of extraordinary talent.
About the Speaker
Sydney Finkelstein
Sydney Finkelstein is the Steven Roth Professor of Management and Director of the Center for Leadership at the Tuck School of Business at Dartmouth College, where he teaches courses on Leadership and Strategy. He is also the Faculty Director of the flagship Tuck Executive Program, and has experience working with executives at a number of other prestigious universities around the world. He holds degrees from Concordia University and the London School of Economics, as well as a Ph.D. from Columbia University in strategic management.
Sydney has published 20 books and 80 articles, with several bestsellers, including the #1 bestseller in the U.S. and Japan, Why Smart Executives Fail. Based on a six-year study of 51 companies and 200 interviews of business leaders, the book identifies the fundamental reasons why major mistakes happen, points out the early warning signals that are critical for investors and managers alike, and offers ideas on how organizations can develop a capability of learning from corporate mistakes. On Fortune Magazine's list of Best Business Books, the Wall Street Journal called it "a marvel – a jargon-free business book based on serious research that offers genuine insights with clarity and sometimes even wit … It should be required reading not just for executives but for investors as well." It has also been featured in media around the world and has been translated into 12 languages.
Back to all webinars