Changing the Sales Conversation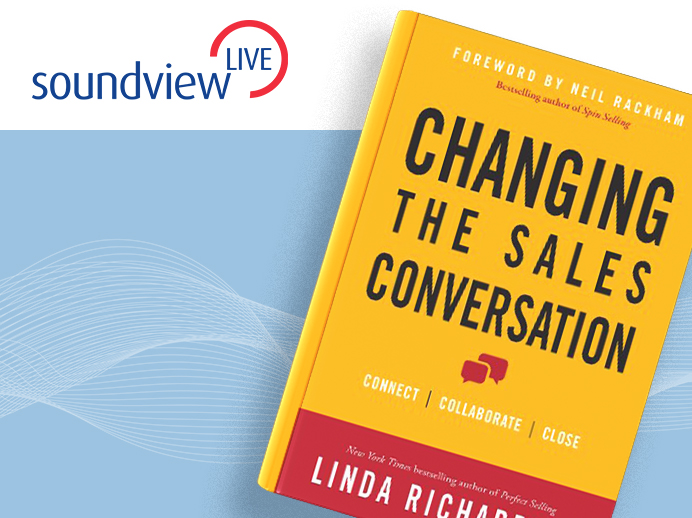 Purchasing has become a core competency for clients. They evaluate their options against checklists they carefully develop. In this Soundview Live webinar, Changing the Sales Conversation, Linda Richardson helps you understand what is on their checklists and align your solutions with their business and personal priorities to help you win.
To engage clients today you must demonstrate that you know their world and that you are prepared with insights and ideas to add to what they already know. Richardson gives you five clear strategies and tools to help you do just that. You will create and shape opportunities, prepare and probe in an entirely new way, gain client consensus, and use sales process and tools to guide and accelerate closing.
About the Speaker
Linda Richardson
Linda Richardson is the Founder and Executive Chairwoman of Richardson, a global sales training and performance improvement company. As a recognized leader in the industry, she has won the coveted Stevie Award for Lifetime Achievement in Sales Excellence and she was identified by Training Industry, Inc. as one of the "Top 20 Most Influential Training Professionals." Ms. Richardson is credited with the movement to Consultative Selling and is the author of ten books on selling and sales management, including Sales Coaching — Making the Great Leap from Sales Manager to Sales Coach, and Stop Telling, Start Selling. She teaches sales and management at the Wharton Graduate School of the University of Pennsylvania and the Wharton Executive Development Center. Linda is a frequent speaker at industry and client conferences, has been published extensively in industry and training journals, and has been featured in numerous publications, including The Wall Street Journal, Forbes, Nation's Business, Selling Power, Success, and The Conference Board Magazine.
Back to all webinars
More Webinars