Transforming Decision-Making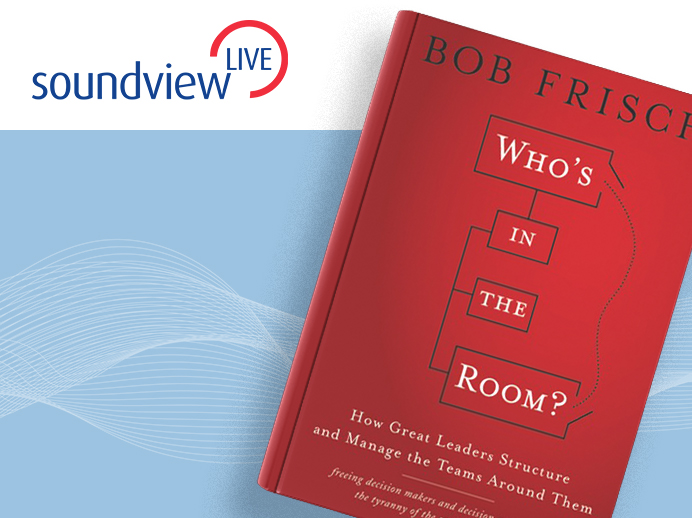 At the top of every organization chart lies a myth — that the boss and the senior management team make all the critical decisions together. In reality, most decisions are actually made by the boss and an inner circle of confidants — a "team with no name" that exists outside formal processes.
In this Soundview Live webinar, Transforming Decision-Making, Bob Frisch provides a unique perspective on this widely misunderstood issue. He argues that the solution lies not in addressing behaviors, but in unseating the senior management team as the epicenter of decision making. Using a broad portfolio of teams — large and small, permanent and temporary, formal and informal — great leaders match each decision to the appropriate team in a fluid, flexible approach that you won't find described in management textbooks.
The audio recording and video recording will be available to listen to or download from your Online Library immediately after check-out.
About the Speaker
Bob Frisch
For over twenty nine years, Bob Frisch has been working with executives, senior management teams and boards around the world. From Fortune 10 multinationals to family-held businesses across a wide variety of industries, Bob's combination of strategic, organizational, process and facilitation skills have led to his becoming a trusted partner to help them discuss and resolve their organization's most important issues.
Before founding the Strategic Offsites Group, Bob was a Managing Partner of Accenture, where he helped create the Organization and Change Strategy capability. Bob joined Accenture from Cap Gemini Sogeti, where he ran the Strategy Practice for the Americas region and led Gemini Consulting's global capability in Corporate Vision and Growth. He began his career at the Boston Consulting Group, where he helped start BCG's Los Angeles office.
Bob is a magna cum laude graduate of Tufts University, and earned his MBA at the Yale School of Management. Bob lives in Newton Centre, Massachusetts with his wife Iris and their four children.
Back to all webinars
More Webinars