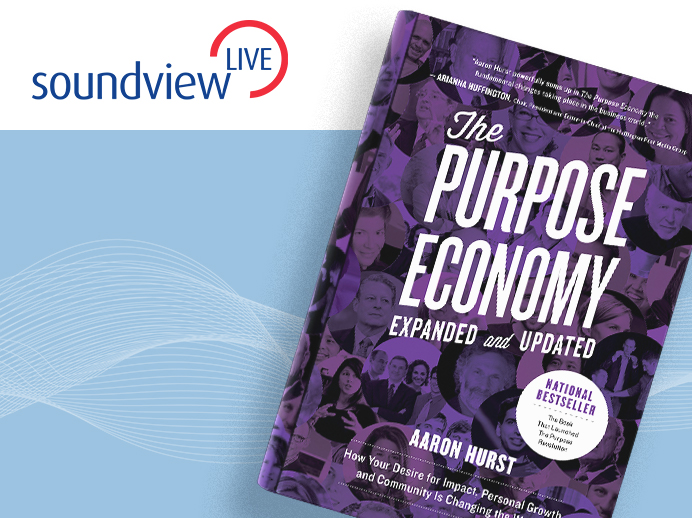 A series of shifts are happening in our economy: A record number of millennials are trading in conventional career paths to launch tech start-ups, start small businesses that are rooted in local communities, or freelance their expertise. We are sharing everything from bikes and cars to extra rooms in our homes.
In this Soundview live webinar, The Purpose Economy, globally recognized entrepreneur and founder of Taproot Foundation, Aaron Hurst argues that while these developments seem unrelated at first, taken together they reveal a powerful pattern that points to purpose as the new driver of the American economy. Like the information economy, which has driven innovation and economic growth until now, Hurst argues that this new economic era is driven by connecting people to their purpose, "It's an economy where value lies in establishing purpose for employees and customers—through serving needs greater than their own, enabling personal growth and building community.
About the Speaker
Aaron Hurst
A globally recognized entrepreneur Aaron Hurst is the CEO of Imperative, a technology platform that enables people to discover, connect and act on what gives them purpose in their work. Aaron is a close advisor to many global brands and frequent speaker and writer on the development of the Purpose Economy.
He is the founder and an active advisor to the Taproot Foundation where he was the catalyst and lead architect of the $15 billion pro bono service market.  He was the creative force behind the conception of the national Billion + Change campaign. Previously he worked in Silicon Valley developing the precursors to social media.
Back to all webinars