Making Ecological Intelligence a Competitive Advantage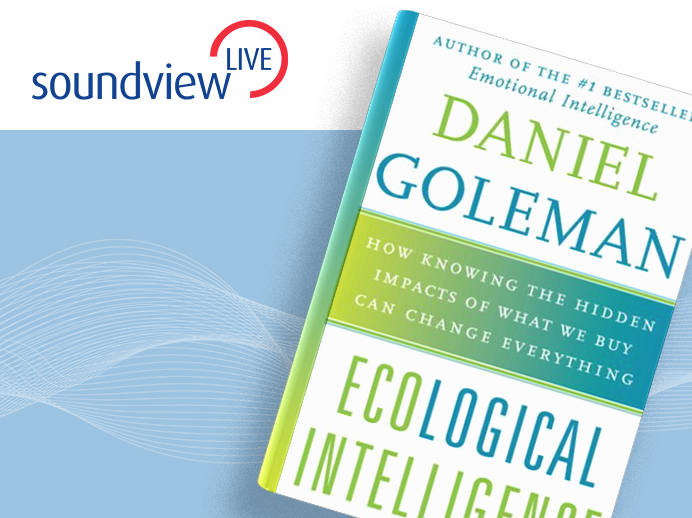 In this Soundview Live webinar, Daniel Goleman presents the case for why companies need to be aware of the ecological impact of their products and services in order to compete in the marketplace of the future.
What Goleman calls "radical transparency" will enable consumers to make smarter purchasing decisions, and will drive companies to rethink and reform their businesses, ushering in, he claims, a new age of competitive advantage.
The MP3 recording and slides from this event as well as a book summary for Ecological Intelligence will be available to listen to or download from your Online Library immediately after check-out.
About the Speaker
Daniel Goleman
Psychologist Daniel Goleman is the author of the groundbreaking and best-selling books Emotional Intelligence and Social Intelligence: The New Science of Human Relationships, among others. He is also co-director of the Consortium for Research on Emotional Intelligence in Organizations, based at Rutgers University.
For many years he reported on the brain and behavioral sciences for the New York Times and has also been a visiting faculty member at Harvard University.
Goleman has received many journalistic awards for his writing, including two nominations for the Pulitzer Prize for his articles in the Times, and a Career Achievement award from the American Psychological Association. In recognition of this efforts to communicate the behavioral sciences to the public, he was elected a Fellow of the American Association for the Advancement of Science.
Back to all webinars
More Webinars

Business Intelligence, Emotional Intelligence, and Leadership

Speakers: Annie McKee, Daniel Goleman

Watch

Confronting Capitalism: Real Solutions for a Troubled Economic System

Speaker: Philip Kotler

Watch

Budgeting & Planning for Bottom-Line Value

Speaker: N. Dean Meyer

Watch