The Path to Extraordinary Productivity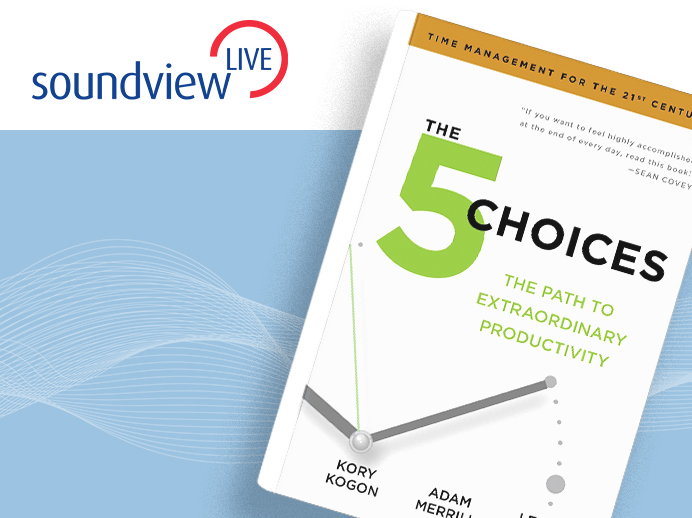 Every day brings us a crushing wave of demands: a barrage of texts, emails, interruptions, meetings, phone calls, tweets, blogs—not to mention the high-pressure demands of our jobs—that can be overwhelming and exhausting. The sheer number of distractions can threaten our ability to think clearly, make good decisions, and accomplish what matters most, leaving us worn out and unfulfilled.
In this Soundview Live webinar, The Path to Extraordinary Productivity, Kory Kogon offers powerful insights drawn from the latest neuroscience and decades of experience and research in the time-management field to help you master your attention and energy management through five fundamental choices that will increase your ability to achieve what matters most to you.
About the Speaker
Kory Kogon
Kory has recently accepted the position as the Practice Leader for Productivity at FranklinCovey after working as a Senior Leadership Consultant and the Subject Matter Expert (SME) for the Speed of Trust Practice. Clients describe her as energetic and straightforward, and they appreciate her ability to offer real-world skills that they can apply "now—not next year."
Before joining FranklinCovey, Kory spent more than 11 years with AlphaGraphics, Inc. where she served almost 5 years as the Executive Vice President of Worldwide Operations. She was responsible for the teams helping franchisees start up their business, develop staff, and reach profitability in a highly competitive, commodity-driven industry. Previously, Kory worked in the hospitality industry, where she held executive positions in sales, sales management, and training.
In 2005 Utah Magazine honored Kory as one of the "Top 30 Business Women to Watch" in Utah. In addition to her operational expertise, Kory's expertise in coaching, training, and consulting has benefited colleagues and clients alike.
Back to all webinars
More Webinars

7 Practices for Building a Resilient Learning Organization

Speaker: Holly Burkett

Watch

Embracing Possibility in a Culture of Collaboration

Speaker: David Savage

Watch

How to Achieve a Life of Primary Greatness

Speaker: Breck England

Watch