The 4-Step Method to Real Influence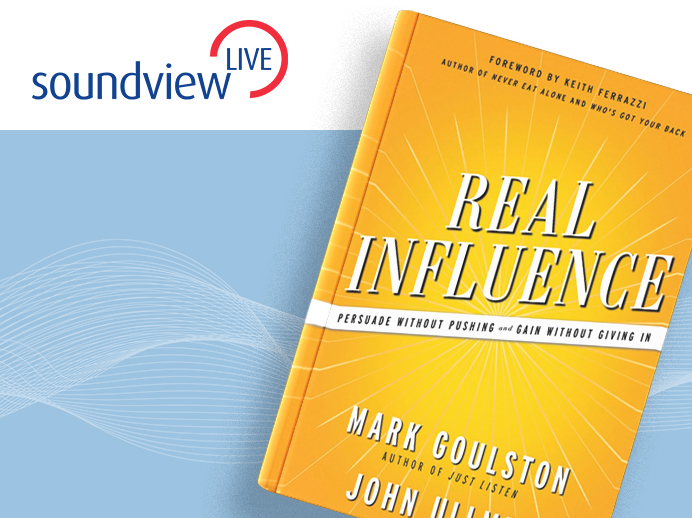 People won't put up with being "sold" anymore. If they sense they are being pushed, their guard goes up — and even if they do comply, lingering resentment undermines the relationship… maybe forever.
In this Soundview Live webinar, The 4-Step Method to Real Influence, authors Mark Goulston and John Ullmen reveal a new model for authentic influence — the kind that creates a strong initial connection and survives long after agreement has been reached. Complete with examples of the steps in action and insights from real-world "power influencers," this one-of-a-kind method shows that being straight with everyone means winning for all.
Available: audio recording, video recording, slides, summary of Real Influence
About the Speaker
John Ullmen
John Ullmen, Ph.D., is an internationally acclaimed executive coach who oversees MotivationRules.com, conducts highly popular feedback-based seminars on influence in organizations, and is on faculty at the UCLA Anderson School of Management, where his course on interpersonal communication was voted by students as one of the "Top 10" experiences in their graduate program. 
Through his executive coaching impact backed by a results-based guarantee, Dr. Ullmen has earned a reputation for achieving significant, sustained results with senior leaders across a wide range of industries. His clients include Apple, Bain & Co., Cisco, Deloitte, Disney, Genentech, Frito-Lay, Johnson & Johnson, Merrill Lynch, NASA, Nike, Oreck, Raytheon, St. Jude Children's Research Hospital, UBS, Verizon, Yamaha and many others.
Dr. Ullmen also works with senior leadership teams, and one of the programs he created for a leading global firm was featured in a Harvard Business School Case Study on successful strategic and human capital change.
Dr. Ullmen is a frequent keynote speaker on how to influence for results without resorting to authority or relying on rewards and penalties. A natural storyteller, he coauthored a highly praised series of management fable books including Who Wins Conflict? The Creative Alternative to Fight or Flight, Which Bird Gets Heard? How to Have Impact Even in a Flock, and Invisible Bridges: Building Business Relationships for Results.
Dr. Ullmen received a B.S. from the U.S. Air Force Academy, a Master of Public Policy from Harvard University, and a Ph.D. in Organizational Behavior from UCLA. He began his career as an officer in the U.S. Air Force, where he served in a global top-secret intelligence program and later at the U.S. Air Force Academy Center for Character Development. 
Mark Goulston
Mark Goulston, M.D., is Chairman and Co-Founder of Heartfelt Leadership, a business psychiatrist, consultant and executive coach renowned for his expertise on getting through to and engaging people in the workplace and beyond. 
Trained as clinical psychiatrist, he honed his skills as a hostage negotiation trainer for the FBI. He has worked with an impressive list of organizations, including Accenture, AstraZenica, British Airways, Deutsche Bank, ESPN, Federal Express, GE, Goldman Sachs, Hyatt, IBM, Kodak, Merrill Lynch, and Xerox, as well as Pepperdine University and the UCLA School of Management. 
Prominent in the health community along with the business world, he was named one of "America's Top Psychiatrists" by The Consumers' Research Council of America in 2011.
Dr. Goulston is the author of the bestselling Just Listen, which has been translated into 14 languages and inspired a PBS special, "Just Listen with Dr. Goulston." His prior books also include Get Out of Your Own Way and Get Out of Your Own Way at Work. He writes a Tribune syndicated career-advice column, "Solve Anything with Dr. Mark," and blogs for Fast Company, Huffington Post, and Psychology Today. Sought out for his expertise in the context of business issues and current events, he has been featured in The Wall Street Journal, Harvard Business Review, Fortune, Forbes, Newsweek, Time, The New York Times, and the Los Angeles Times. He has also been interviewed on CNN, Fox News, BBC News, Today, Oprah, NPR, and Oprah Radio. Description: http://www.getrealinfluence.com/tp.gif 
Dr. Goulston received his B.A. from UC Berkeley and earned his M.D. from Boston University. Before his career in business, he served as a professor at UCLA's noted Neuropsychiatric Institute for more than 20 years.
Back to all webinars