Taking Care of Business with the Enneagram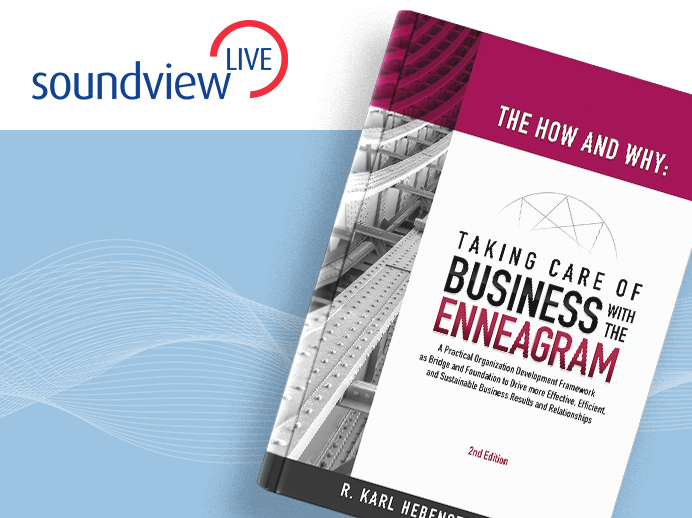 In this Soundview Live webinar, author of the book, The How and Why: Taking Care of Business with the Enneagram, R. Karl Hebenstreit, PhD, provides a thorough overview of Organization Development tools and frameworks traditionally associated with solving typical business challenges—infusing and enhancing them with insight from the Enneagram.
In This Webinar, You Will Learn:
The 7 Biggest Business Challenges
How to apply the Enneagram to these and a variety of other common challenges and initiatives
Tools to help understand your own, as well as others' Emotional Intelligence
The 9 Enneagram Types and their "superpowers"
About the Speaker
R. Karl Hebenstreit
Karl Hebenstreit is a certified executive coach, leadership and organization development consultant, author, and international speaker. His 25+ year career spans the areas of HR and OD in the biotechnology, clinical diagnostics, life sciences, healthcare, pharmaceutical, telecommunications, professional services, high-tech, and real estate services industries, having worked at Merck, Bellcore, AT&T, Lee Hecht Harrison, Cushman & Wakefield, Kaiser Permanente, EMC², Bio-Rad Laboratories, and Genentech/Roche. He holds a PhD in Organizational Psychology from Alliant International University/CSPP (where his dissertation focused on "Helping Organizations Attract, Retain, and Motivate employees with the Enneagram"), a MS in HR Management from the Rutgers Graduate School of Management and Labor Relations, an Evidence-Based Coaching Certificate from Fielding Graduate University (that led to his PCC), and is an IEA Accredited Professional with Distinction as well as an IEA Accredited Professional/Provider/Teacher.
Back to all webinars
More Webinars