Making a Bigger Impact By Saying Less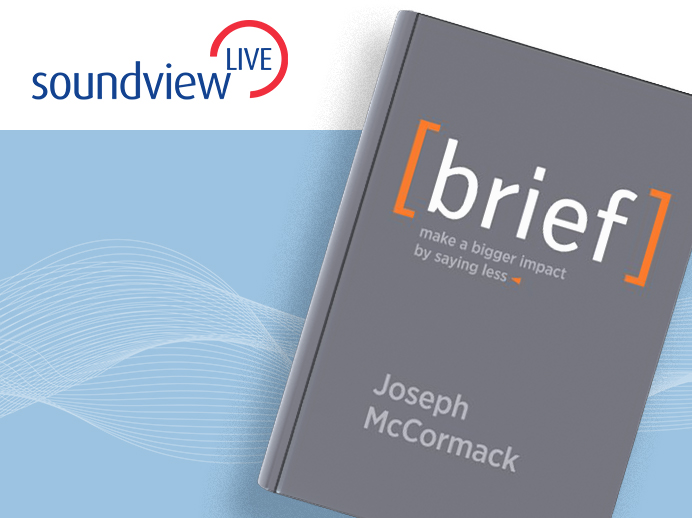 In this Soundview Live webinar, Making a Bigger Impact By Saying Less, Joe McCormack tackles the challenges of inattention, interruptions, and impatience that every professional faces. His proven B.R.I.E.F. approach, which stands for Background, Relevance, Information, Ending, and Follow up, helps simplify and clarify complex communication. BRIEF will help you summarize lengthy information, tell a short story, harness the power of infographics and videos, and turn monologue presentations into controlled conversations.
About the Speaker
Joseph McCormack
Joe McCormack is on a mission to help organizations master the art of the short story. In an age of shrinking attention spans, non-stop interruptions, floods of information, the messages business leaders send out are getting lost in a sea of words. An experienced marketing executive, successful entrepreneur and author, Joe is recognized for his work in narrative messaging and corporate storytelling.
A passionate leader, he founded The BRIEF Lab in 2013 after years dedicated to developing and delivering a unique curriculum on strategic narratives for U.S. Army Special Operations Command (Ft. Bragg, NC). He actively counsels military leaders and senior executives on key messaging and strategy initiatives. His clients include W.W. Grainger, Harley-Davidson, USG Corporation, BMO Harris Bank, SAP, MasterCard, Heinz, Hoffman-La Roche and Jones Lang LaSalle.
Back to all webinars
More Webinars

Utilizing Your Gifts for Superhuman Performance

Speaker: Derrick Miles

Watch

From Effectiveness to Greatness

Speaker: Stephen R. Covey

Watch

Free Yourself from Conflict at Work, at Home, and In Life

Speaker: Jennifer Goldman-Wetzler

Watch